House Judiciary Dems demand answers on settlement of major case involving Trump Jr.'s Russian lawyer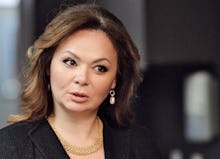 Democrats on the House Judiciary Committee are demanding answers from Attorney General Jeff Session and the Justice Department about a decision to settle a major lawsuit involving the Russian lawyer who met with Donald Trump Jr., the eldest son of President Donald Trump.
Natalia Veselnitskaya, the Russian lawyer who met with Trump Jr., top White House adviser Jared Kushner and former Trump campaign manager Paul Manafort in the now infamous meeting, had been an attorney for one of the Russian parties in a major money laundering case being tried in the U.S.
The alleged fraud in the case was uncovered by Russian lawyer Sergei Magnitsky, who was later arrested by the Russian government and died while in custody.
His death inspired the U.S. Magnitsky Act, which placed sanctions on several Russians who were involved in the case. In response to the Magnitsky Act, Russia disallowed adoption of Russian children by U.S. citizens.
When describing his meeting with Veselnitskaya, Trump Jr. claimed that she quickly changed the discussion to adoption policy between the United States and Russia.
The $230 million fraud case was being overseen by U.S. Attorney for the Southern District of Manhattan Preet Bharara. In March, the Trump administration abruptly asked for the resignation of all 46 U.S. attorneys across the country. Bharara refused to resign and claimed the Trump administration had previously indicated he could remain in office. The Trump administration then fired Bharara.
Two months after that, the $230 million fraud case was settled for less than $6 million.
A letter signed by all 17 Democratic members of the House Judiciary Committee requests that the Justice Department say whether or not Veselnitskaya had any involvement in the settlement and explain why the case settled for less than $6 million.
They also request that the Justice Department disclose any conversations between the Trump White House or campaign and the Justice Department concerning the case and asks whether it was discussed during the transition or during Sessions' meetings with the Russian ambassador.