Here's what you need to know about the Women's March #NRA2DOJ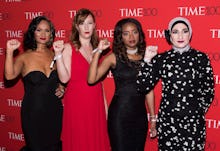 The Women's March is leading two actions against the National Rifle Association, scheduled for Friday and Saturday in the Washington, D.C. area.
Part of the movement's #NRA2DOJ demonstration, the group calls on participants to gather at the NRA headquarters in Fairfax, Virginia, at 9 a.m. on Friday for a rally that will turn into a 17-to-18-mile march on the Department of Justice in Washington, D.C. On Saturday, the Women's March will follow up with a rally and vigil at the DOJ, to begin at 10 a.m.
The #NRA2DOJ marches come in response to a rather alarmist ad the NRA released in June which is hard to read as anything other than a call to arms against the left. In it, conservative talking head Dana Loesch casts "the resistance" as the force behind a violent storm of racism, sexism, homophobia and xenophobia, and invites viewers to join the NRA — because only good guys with guns can stop bad guys with guns, as the second amendment crowd is so fond of saying. Loesch explains:
They use their media to assassinate real news. They use their schools to teach children that their president is another Hitler. They use their movie stars and singers and comedy shows and award shows to repeat their narrative over and over again. And then they use their ex-president to endorse the resistance, all to make them march, make them protest, make them scream racism and sexism and xenophobia and homophobia, to smash windows, burn cars, shut down interstates and airports, bully and terrorize the law-abiding, until the only option left is for police to do their jobs and stop the madness. And when that happens, they'll use it as an excuse for their outrage. The only way we stop this, the only way we save our country and our freedom, is to fight this violence of lies with the clenched fist of truth.
In response, Tamika Mallory — who, along with Linda Sarsour, Bob Bland and Carmen Perez, organized the historic Women's March on Washington on Jan. 21 — penned a strongly worded open letter to NRA Executive Vice President, Wayne LaPierre, and posted it to Facebook.
"Recent actions by the NRA demonstrate not only a disregard for the lives of black and brown people in America — your fellow citizens — but appear to be a direct endorsement of violence against these citizens exercising their right to protest," Mallory wrote, demanding that the NRA remove its ad, issue an apology and make a statement in defense of Philando Castile's rights as a gun owner. The NRA had remained conspicuously silent since a Minnesota police officer shot Castile, a black man in possession of a permit to carry his gun, in July 2016. Their first words on the matter came on Sunday, weeks after that officer was acquitted — from Loesch, as it happens.
"At a time when our nation is seeing a rise in racially charged incidents and violence motivated by hate speech, it is unconscionable for a powerful organization like yours to peddle an 'us versus them' narrative," Mallory wrote. "You are calling for our grassroots, non-violent resistance movement to be met with violence."
The NRA followed with a statement, aired on its news platform, aimed explicitly at Mallory, flat-out refusing to remove the ad. And so, the Women's March announced its protest.
#NRA2DOJ will be, like all other Women's March events, a non-violent demonstration. Those who plan to attend should RSVP here.