Kid Rock says he's really running for Senate. So why is his merch website hosted Warner Bros?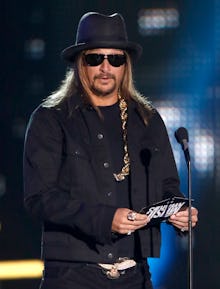 On Wednesday afternoon, Kid Rock flipped authority yet another bird by tweeting that he is running for U.S. Senate.
If you click the link, the website that loads invites you to buy campaign merchandise and has a few possible slogans for his alleged Senate race, like "I'll rock the party" and "You never met a politician like me." A copyright at the bottom of the page says "Kid Rock for U.S. Senate 2018."
A search on the WhoIs system — a tool anyone can use to determine who registered a domain — does not yield the details of who created KidRockForSenate.com.
But the linkout to the merch site does point to a likely culprit: Warner Bros. Records, the record label to which Kid Rock is signed, is hosting the web shop where fans can buy shirts, yard signs and hats on its domain.
Some pointed out that Kid Rock, whose real name is Robert James Ritchie, has not personally filed the requisite paperwork for a Senate campaign with the Federal Election Committee.
A follow-up tweet from Kid Rock says that he will have a major announcement in the near future.
Judging from the fast virality of Kid Rock's initial announcement, which garnered thousands of retweets in under an hour, it's likely many will be watching to see what this really is.
Mic reached out to Warner Bros. Records, which replied that we should just watch Kid Rock's Facebook page. Mic also reached out to Kid Rock, who has not yet responded. We will update should that change.
July 12, 2017, 7:08 p.m.: This story has been updated.