Working Families Party endorses Randy "Iron Stache" Bryce in House race against Paul Ryan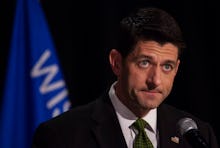 Randy Bryce, the union ironworker mounting a challenge to House Speaker Paul Ryan (R-Wis.) in 2018, just got a big endorsement from one of the nation's most influential progressive organizations.
The Working Families Party endorsed Bryce on Thursday, saying that beating someone like Ryan would require "working-class people who can really speak to how people are suffering and to the change we need."
Bryce, who goes by the handle @ironstache on Twitter, has become an avatar of the blue-collar progressive political movement that sprung from the 2016 presidential campaign of Sen. Bernie Sanders (I-Vt.).
"Of all the millionaires in Congress, no one is carrying Wall Street's agenda more than Paul Ryan," Bryce said in a statement. "The people deserve a voice, workers deserve a voice, families deserve a voice. That's why I'm a proud member of the Working Families Party in Wisconsin and why I'm throwing my hard hat into the ring to run for Congress."
The WFP is a progressive political organization that has been growing in influence over the past several years. In states like New York, where the "fusion" party system has allowed WFP to register as a political party while still supporting Democratic candidates, an endorsement from the WFP has become crucial for any prospective Democratic candidate. The organization looking to expand that influence into other states, too.
A representative for the WFP said the party will be working to mobilize voters in the district and engage small-dollar donors on Bryce's behalf.
Bryce has been a longtime member of Wisconsin's WFP and was involved in WFP political actions against Ryan as a private citizen.
WFP membership doesn't necessarily ensure support and resources in every race. A party representative told Mic that the over-performance of progressive candidates since President Donald Trump's election make the WFP optimistic that Bryce can flip Ryan's more moderate district.
Bryce has already raised a considerable amount of money for his run. He also released this widely shared ad in June:
"These issues aren't a game to me," Bryce said in his statement accepting the endorsement. "I don't know what I'll do if my mom loses her health care. I'm running to make sure southeastern Wisconsin gets a fair shake and I'm proud to have the backing of the WFP."