'Overwatch' Doomfist Skins: Blizzard updates PTR with all of Doomfist's unlockable items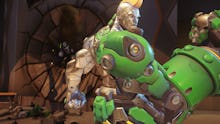 All of Doomfist's unlockable skins and other cosmetics have been added to the current build of the public test realm — and they're stunning. Blizzard has yet to announce exactly when Doomfist will transition from the PTR to live servers, but this is just another indication that the date draws nearer.
Every single Doomfist skin is embedded below.
Overwatch Doomfist skins
All of Doomfist's highlight intros, victory poses, etc.
For a look at the rest of Doomfist's cosmetics, check out the video below from YouTube channel Overwatch Central.
More Overwatch news and updates
For more on Overwatch, check out the rest of what Mic has to offer. Here is an intro to the cute, new "Wholesome Overwatch" subreddit, a look at some gorgeous Overwatch-themed PS4 and Xbox One controllers, a cool Easter Egg in the new Horizon Lunar Colony map and a criticism of Blizzard's failures in its design of Symmetra.