Buying a foreclosure? 5 things to know that will save you money on a new home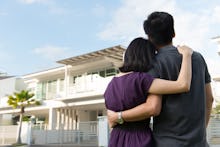 When 27-year-old operations manager Josh Kirk and his then-fiancée, Sami, were looking to buy a home in the spring of 2015, they didn't hesitate to consider foreclosures: bank-owned properties that are typically discounted and have been repossessed from borrowers who could not pay the mortgage. When all was said and done, the couple got exactly what they had intended: an affordable home in Olathe, Kansas, a suburb of Kansas City, where their future family could put down roots.
But despite the Kirks' ultimate success, the process of investing in a real-estate-owned property came with a few big surprises along the way.
"It was our first time purchasing a home," Kirk said in an email. "The process wasn't that bad overall, but ... I wasn't expecting the costs for the inspections and fees. I do wish I had known about the hassle to get a loan, as we weren't able to get a [mortgage] for more than the price of the house to be able to fix it up. Luckily, my dad taught me ... how to do most of [the repairs] myself."
Once they signed on the dotted line, the Kirks joined a group of young homeowners whose numbers have reached a record low in recent years: According to a Harvard University study released in February, the homeownership rate for the under-35 age group stood at 31% in 2015, down 12% from 2005 levels.
Having watched the 2008 foreclosure crisis unfold, it's not surprising some millennials have shied away from pursuing the so-called "American Dream" of owning a home. But with foreclosure activity in the first six months of 2017 down 20% from the same period in 2016, according to ATTOM Data Solutions, such properties are currently the exception rather than the rule. The national average for foreclosure filings in May was one in every 1,636 housing units, with foreclosures selling for an average discount of 20% below market value that same month.
"Foreclosures have become the unicorns of the housing market: hard to find but highly sought after," Daren Blomquist, ATTOM Data Solutions senior vice president, said in a press release.
Simply put, a foreclosure is what happens when a homeowner — or, to be more specific, a borrower — fails to make their mortgage payments on time, often because of financial hardships like job loss or illness. Sometimes, a homeowner will purposely stop making payments when the property is worth less than what they owe or the maintenance becomes too much to handle, according to Zillow.
With millennials increasingly coming around to the idea of becoming homeowners, it begs the question: Could buying a foreclosure help more people achieve that dream?
How to decide on a foreclosure
The key is to think through how your purchase could play out before you commit any money. While the idea of saving thousands of dollars on a new-to-you home is tempting, would-be buyers should be prepared to encounter more red tape than they would when purchasing a non-distressed property.
"Buying a foreclosure is definitely a bit of a grind. It's not easy," Robert Jensen, broker and president of the Rob Jensen Co. in Las Vegas, told Bankrate. "You're getting fantastic pricing, but sometimes it takes going through a lot of houses and writing a lot of offers to get the home you want."
In other words, this can be an incredible way to get a deal — but you need to be sure you have the time and energy to make it worthwhile. Here are five other key issues to consider before deciding whether to invest in a foreclosure.
1. Do the math on extra inspection costs
When purchasing a foreclosure, be prepared to go well beyond the standard whole house inspection in regard to both resources and costs, Christian Zarif, an agent with BHG Kansas City Homes in Kansas, said in an email interview. After all, houses that have been sitting empty for a while are often behind on regular maintenance — and sometimes, disgruntled owners will purposely damage the property before they're forced to leave. This makes a thorough home inspection even more important, as such deterioration can further devalue the home and increase your renovation costs.
"Line up specialty inspectors to look more closely at major systems of the house, such as HVAC, roof, plumbing, electrical, mold and sewer lines," Zarif said. "If the home has been winterized and water service terminated — as most foreclosures have been — it will be a challenge to test the plumbing system. [The] same applies to the electrical system. Additional steps and costs may be needed to get those systems up and running for the inspection."
2. Calculate how much money you'll need to make it livable — and how you'll finance repairs
Sometimes known as a renovation loan, a 203(k) mortgage "helps homebuyers finance both the purchase and rehabilitation of a home with one mortgage," according to Inman. In other words, a 203(k) allows you to buy a house as well as finance certain improvements, such as replacing the roof, updating the plumbing or remodeling the kitchen.
"Typically, a 203(k) loan is going to be your best bet when dealing with a property that needs extensive rehab [i.e., above $10,000 to $15,000]," Zarif said. "The key is working with an approved lender that has experience with 203(k) loans. In addition to the typical purchase loan requirements, additional details will need to be ironed out to get contractor estimates from approved providers. This is where a local lender could play a critical role in the process, as they typically have access to contractors in your area to assist."
Real estate agents usually have an established network of lenders with whom they regularly work, so ask your agent to recommend a mortgage banker well-versed in 203(k) loans. Keep in mind, however, that if you plan to follow Kirk's lead and complete most of the renovations yourself, a 203(k) loan might not be the right fit — this type of mortgage requires all work to be done by licensed, insured and approved contractors.
3. Choose your realtor carefully
While it's smart to browse foreclosure listings online to get a sense of what's available in the areas you desire, when it comes time to actually make an offer, first-time buyers should hire a real estate agent to negotiate on their behalf. An agent can assist with everything from making you aware of your rights throughout the process to helping you arrive at an appropriate offer based on comparable homes.
Agents can also give you a better idea of a property's long-term investment potential. "Rely on the expert knowledge and advice of a realtor to help you determine the resale potential of a foreclosed property in its immediate neighborhood," Zarif said. While some calculators can estimate what your home might be worth in the future based on average appreciation rates, local trends and statistics are a much better indicator of resale potential — and an experienced agent can interpret those numbers for you and provide more accurate assessments.
What's more, a buyer's agent is typically paid by the seller via the agent's listing brokerage, so there's no out-of-pocket cost to you. That's a pretty good deal for expert advice during one of the biggest purchases of your life.
4. Think twice before buying at auction
Many homes in foreclosure go up for auction, so you may be wondering if it makes sense to buy there. While the rules vary by auction house, there are lots of ways the process can be riskier than purchasing a home the old-fashioned way.
First of all, you often have to pay in cash. Secondly, since you're not always allowed to have a home inspection prior to purchase, it can be difficult to estimate the price tag of potential renovations. And since you're typically working without an agent, you'll have to figure out your own bid price. Lastly, you could become liable for back taxes and other liens on the property.
California realtor Jim Hamilton has some advice for those interested in snagging a foreclosure at auction: Stay far, far away. "I caution anyone who isn't in the [real estate] business: Buying [at auction] can be one of the worst decisions you'll ever make," Hamilton told Bankrate back in 2011.
5. Get ready to be patient
Depending on the renovations a foreclosure requires, it may not be considered "livable" immediately after closing. For example, a defective electrical system, broken HVAC or the presence of mold might make the home unsafe — and your current living situation could mean you'll have to cross it off your list of potential properties.
"If [you] can afford to stay in other accommodations while the home is being renovated, they by all means do it," Zarif said. "It often takes longer and is more hassle to live in a home that is being renovated or rehabbed. If a buyer needs to take immediate occupancy of the home, then a foreclosure that isn't inhabitable probably isn't the best choice."
While there are many hurdles to buying a foreclosure, the sale price likely won't be one of them. So if you're not put off by potential repairs and the time you'll have to wait to move in while those renovations are being made, this is one homebuying option you'll definitely want to consider.
Sign up for the Payoff — your weekly crash course on how to live your best financial life. Additionally, for all your burning money questions, check out Mic's credit, savings, career, investing and health care hubs for more information — that pays off.