FBI taking fresh look at Russian officials' 2015 conversations about Trump associates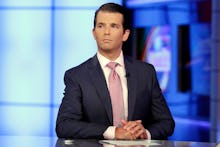 Spiraling scandal surrounding Donald Trump, Jr., and his emails means investigators are looking afresh at conversations U.S. intelligence agencies overheard in spring of 2015, in which Russian government officials reportedly discussed members of Donald Trump's circle, according to the Wall Street Journal.
The conversations allegedly predate Trump's campaign announcement in June 2015, and while federal investigators have known about them for a while, they seemed to lack the requisite context before now. In the Journal's words, intelligence agencies considered the conversations "vague and inconclusive," although the Russians recorded make frequent and specific mention of Trump advisers and business associates.
According to the Journal, it wouldn't be unheard of for Russian officials to confer about people who have business in their country, as the president does. International meetings between Russian and Trump officials reportedly come up during the conversations, which might have something to do with Trump's hosting his Miss Universe pageant in Moscow in 2013. Or not.
The Journal stressed that U.S. intelligence recorded the conversations as part of routine Russia surveillance, not an investigation aimed at Trump. But as information on the first son's 2016 meeting schedule emerged, they looked a little more damning. On Tuesday, Trump, Jr. released a series of emails in which he coordinated with Vladimir Putin-connected publicist Rob Goldstone to arrange a meeting with Russian lawyer Natalia Veselnitskaya, who promised dirt on Trump opponent Hillary Clinton. Trump, Jr.'s response? "I love it."
Trump's former campaign manager, Paul Manafort, and his son-in-law-slash-adviser, Jared Kushner, were also in the room for the first son's meeting. Team Trump continues to deny any foul play as the FBI, led by special investigator Robert Mueller, continues its probe into Russia-Trump cooperation in swinging the 2016 presidential election.
In a statement to BuzzFeed News, Mark Corallo — the spokesperson for Trump's personal lawyer, Marc Kasowitz — denied allegations the Journal made in its report.
"A case of double hearsay," Corallo wrote, "A story citing anonymous sources discussing anonymous associates."