After being turned down twice, Afghan girls robotics team finally granted entry to compete in US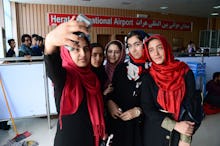 After two rejections, Afghanistan's all-girls robotics team will get a chance to come to the United States and compete in an international robotics competition after all, the competition's organizers said on Wednesday.
"After going through the visa process twice, the U.S. State Department subsequently granted the team entry to the United States," FIRST Global, the organization behind the robotics competition, said in a statement.
The news that the team had repeatedly been denied visas spurred widespread criticism and backlash. Politico reported on Wednesday that President Donald Trump "became aware of the case" and personally intervened to finally grant the team entry to the U.S. through a system called parole.
According to Politico, critics warned that denying the team entry would engender negative feelings about the U.S. in Afghanistan. They also said the visa denials seemed to run counter to the Trump administration's claims that empowering women and girls around the globe is a top priority.
A team from Gambia that had previously been denied a visa also had their entry approved this week, according to the statement.
The team of six Afghani girls were initially denied visas to the U.S. after twice making the 500-mile journey from Herat to the U.S. Embassy in Kabul, Afghanistan.
Their coach, Roya Mahboob, said the team was "crying all the day" when they heard the news that they had been rejected a second time for their seven-day travel visas.
The organizers of the FIRST Global Challenge robotics competition had come up with an alternate solution when they believed the girls wouldn't be able to compete in person — they were going to watch their robot compete via Skype, organizers said.
But now they'll get to watch up close as their robot goes head to head in the competition against teams from nearly 160 other countries. The competition begins July 16.
In a statement, FIRST global president and former Congressman Joe Sestak said that he is "most grateful to the U.S. government and its State Department for ensuring Afghanistan, as well as Gambia, would be able to join us for this international competition this year."