Kim Kardashian fans outraged after North West was seen in a corset. The problem? It wasn't a corset.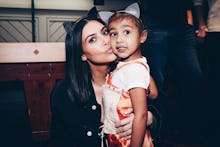 At just four years old, North West is already a style icon. Now, after wearing a particular orange dress, she's also proven to be a style icon powerful enough to spark controversy over what she wears.
All this started online, of course, as images of North wearing an orange satin dress with lace-up detailing appeared online on North West fan Instagram accounts.
Immediately, media outlets hopped on the story. Was Kim Kardashian West, a lover of corsets and waist-trainers alike, pushing her daughter to continue her cinched-waist legacy?
Was North, at just four years old, really being put into a corset?
"This is still grown folk dress-up to me," one commenter wrote on Instagram. "There are a lot of kid cute fashion without being to adult." Another: "This is a mess. Why is this baby wearing a corset????"
On Twitter, the debate raged on.
"Why is a child wearing lingerie and a corset?" one Twitter user asked. "Kids today should be kids. Not forced to be dressing like a grown woman."
"She's way too young in my eyes to wear a fabric that looks like a corset," another announced.
But Kim Kardashian West, as always, was not here for the haters. On Wednesday, she finally set the record straight on her own Twitter account, first with a video showing that the corset on the dress wasn't a corset at all, but decoration.
It didn't have boning or even extend all the way around the tiny dress, but merely appeared on the front as decoration.
"I would never put my daughter in a corset!" Kardashian West wrote. "It's a dress I bought that is a cotton fabric that laces up & looks like a corset! Just decoration."
She then went on to post another pic of the dress, for all of her 54 million Twitter followers to see.
So no, it's a not a corset. And no, Kardashian West wasn't putting her daughter in a corset. And no, Kardashian West wasn't promoting girls as young as her daughter to embrace corsets, either, because it really wasn't a corset.
Knowing North West (which we don't, but we kind of catch a vibe, you know?), we're pretty doubtful Kardashian West can really tell North what to wear. There have already been reports of North being the one who voices her opinions on what her parents wear. And in 2016, when she was just three, she reportedly designed her own dress.
So if anything, this was North West looking at a dress, thinking it was cute, slipping it on and then immediately stunting on all of us.
Can't a four-year-old girl do that in peace?