'Overwatch' PTR Patch Notes July 12: Doomfist skins, balance changes and more in latest update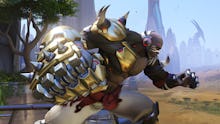 A brand-new patch just hit the Overwatch public test realm. In addition to all of Doomfist's alternate skins and unlockable cosmetic items, this new PTR patch also includes a number of important balance updates for several heroes — including Reinhardt, who players have been reporting issues with for some time now.
We've got the full list of changes below, straight from the Overwatch forums.
Overwatch PTR patch notes for July 12
Doomfist
It's possible Blizzard will continue tweaking these balance changes before implementing them on the live servers. We'll keep you updated of any further changes.
More Overwatch news and updates
For more on Overwatch, check out the rest of what Mic has to offer. Here is an intro to the cute new "Wholesome Overwatch" subreddit, a look at some gorgeous Overwatch-themed PS4 and Xbox One controllers, a cool Easter egg in the new Horizon Lunar Colony map and a criticism of Blizzard's failures in its design of Symmetra.