New 3DS Discontinued: What it means for Nintendo's handheld series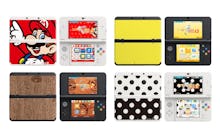 The Nintendo Switch is the company's newest, most capable portable console. It was only a matter of time before we saw the elimination of the 3DS. Judging by Nintendo's own product page, the end has begun.
The New 3DS has ceased production according to this page when translated. This means that if you're looking to buy the most portable option when it comes to playing games in 3D, you better act now.
Say goodbye to the New Nintendo 3DS
It feels like just yesterday we were puzzled by your name. With the New 2DS XL on the horizon, stereoscopic 3D will now be a deluxe feature only available on the larger New 3DS XL.
Nintendo's announcement that they're ending the production line for the New 3DS doesn't come with much fanfare. We've reached out to Nintendo and will update this post after receiving a response.
No New 3DS means no more custom faceplates either
If there's one thing Nintendo knows how to do, it's milk money out of its customers by offering new colors. Owners of the New 3DS had one big advantage over their XL-touting counterparts: swappable faceplates. Waste of money? Potentially. But you're lying to yourself if you think that wood one doesn't look amazing.
As does the Monster Hunter faceplate.
Saying adios to Nintendo's best customization option for a handheld will be tough, but at least we can look forward to spending $80 over and over again for colored Switch controllers.
Check out more Nintendo news and coverage
Looking for more Nintendo Switch news? Check out how blind gamers are using the Nintendo Switch and why you can't get your Mii to look quite like you. Nintendo's left Joy-Con issue turns out to be a hardware problem — here's how to solve it. Find out how to buy a console amid the recent restock. Learn why the Switch cartridges taste so bad. Check out our comparison photos sizing up the Switch to the Wii U GamePad (part one and part two), or find out how to make use of ethernet without the dock and the best way to get alerts when new stock arrives.