Senate GOP releases revised health care plan that removes the tax cuts but still slashes Medicaid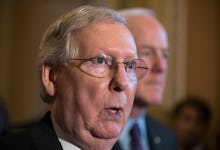 Senate Majority Leader Mitch McConnell (R-Ky.) released a revised version of a Republican-drafted health care plan on Thursday — a plan that would allow states to sell skimpy plans that cover less, while at the same time keeping most of Medicaid cuts that have spurred protests.
Tax cuts for the wealthiest Americans have been removed, and an additional $70 billion to try and offset the cost of insuring high-risk patients has been added.
A roughly $5 billion per year fund to deal with the opioid crisis is also included in the revised bill.
However, the bill keeps the major cuts to Medicaid that have rankled moderate Republican senators and governors alike.
Republicans also added an amendment from conservative Sen. Ted Cruz of Texas, which would allow states to sell plans that are not compliant with the Affordable Care Act, so long as the state also sells ACA-compliant plans.
Critics of that plan say it would create a de-facto high-risk pool for people with pre-existing conditions, forcing them into the expensive ACA-compliant plans. And while the non-compliant plans would have lower premiums, the out-of-pocket expenses for people with those plans would be high when they do need medical services.
That amendment is tentative and could be removed, Politico reported.
It was immediately unclear, however, whether this bill can garner the 50 votes needed to pass.
Already, GOP Sens. Bill Cassidy of Louisiana and Lindsey Graham of South Carolina are shopping around a totally different plan that would, for all intents and purposes, block-grant health care spending and give it to the states to determine how to proceed.
"A blue state can do a blue thing. A red state can do a red thing," Cassidy said on CNN, describing the plan. "My state is going to repeal and replace Obamacare and give power back to the patients."
Graham said the plan isn't "undercutting" McConnell and Republican leadership. However, that's now how it was perceived.
McConnell was forced to pull the first version of the Senate GOP health care proposal before the July 4 holiday, after his own Republican senators revolted.
The Congressional Budget Office estimated that the original plan would cause 22 million people to lose their health insurance, as well as increase costs for many — especially low-income older Americans who are just shy of Medicare eligibility.
McConnell plans to send the new plan to the CBO, with the hopes of having a new estimate early next week.
Moderate Sens. Lisa Murkowski of Alaska and Susan Collins of Maine have said small tweaks to the plan wouldn't be enough to earn their support. Same goes for Sen. Rand Paul (R-Ky.), who thinks the bill doesn't actually repeal the Affordable Care Act — better known as Obamacare — thus abandoning his party's seven-year promise.
McConnell is reportedly begging his conference to at least allow debate on the proposal, according to the Hill, and has delayed the start of the month-long August recess in order to try to goad his members into approving a health care plan.
July 13, 2017 12:12 p.m.: This article has been updated.