Andy Murray corrected a reporter's casual sexism during a post-match interview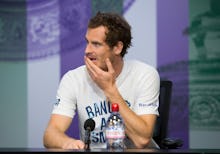 Andy Murray might not have won his Wimbledon match on Wednesday, but he certainly made up for it afterward when he politely corrected a reporter's casual sexism.
At a press conference following the match, a reporter began a question to Murray by referring to his winning opponent, American tennis player Sam Querrey, as the "first U.S. player to reach a major semi-final since 2009."
Before the reporter could finish his thought, Murray interrupted for a quick fact check, reminding him that Querrey had only been the first male player from the United States to break the losing streak. Serena Williams clinched the Australian Open in January — while pregnant, no less — as well as the Wimbledon tournament in June 2016.
The reporter laughed off the moment, adding, "First male player, that's for sure," to an unsmiling, visibly unamused Murray.
It's not the first time Murray has stood up for female tennis stars and the Williams sisters in particular.
Back in August, the British tennis player responded to a similar sexist slight, which involved BBC reporter John Inverdale praising him for being the first "person" to win two Olympic medals in tennis.
"I think Venus and Serena [Williams] have won about four each," he said at the time, alluding to the sisters' Olympic gold medals in both singles and doubles.
Murray has previously said that having a female coach, Amélie Mauresmo, with whom he's since mutually parted ways, opened his eyes to the double standards women in athletics face.
"Have I become a feminist?" Murray wrote in a since-deleted 2015 blog for the French paper L'Equipe. "Well, if being a feminist is about fighting so that a woman is treated like a man then yes, I suppose I have."