'Overwatch' Doomfist Sprays: Nods to 'Overwatch' lore, Muhammad Ali, 'Street Fighter' and more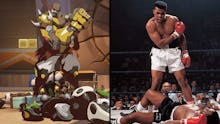 Blizzard finally updated the Overwatch public test realm to include all of Doomfist's unlockable items, like skins, sprays, victory poses and emotes. Sprays are usually items that get overlooked in favor of a character's splashier skins — but Doomfist's sprays are worth checking out individually.
Overwatch Doomfist: Sprays include nods to Muhammad Ali, Street Fighter and Overwatch lore
We have a video embedded below that shows all of Doomfist's new sprays, but we've also included screenshots of a few of our favorites.
For example, one of his sprays has a nice nod to his fighting game-esque move set, with a visual representation of the button combination needed to perform the iconic "Shoryuken" move in Street Fighter.
Doomfist also has an arm wrestling spray that will match up with Zarya's spray, making it look as though the two are duking it out. Reinhardt also has an arm wrestle spray, but his and Doomfist's depict them on the same sides of the table, so they won't line up.
Doomfist also has a spray that references the goofy "Punch Kid" spray, for more reasons than one. See, both characters have large right arms — Doomfist wields that gauntlet and Punch Kid has a cast on his broken arm — so visually, it makes for a good gag. But Punch Kid is actually one of the kids from the Overwatch opening cinematic who steal Doomfist's gauntlet from a museum display and uses it against Talon.
/r/Overwatch user 44no44 also noticed that Doomfist's "The Greatest" spray is a reference to this iconic image of Muhammad Ali after defeating fellow heavyweight boxer Sonny Liston in 1965.
Overwatch Doomfist: All skins, sprays, victory poses, voice lines, highlight intros and emotes
For a nice, quick roundup of all of Doomfist's cosmetics, check out the video below. If you're on the hunt for one particular item, we've got timestamps for each category listed below the video.
Highlight intros — 0:10
Sprays — 0:45
Voice lines — 1:55
Victory poses — 2:30
Emotes — 2:48
Skins — 3:25
More Overwatch news and updates
For more on Overwatch, check out the rest of what Mic has to offer. Here is an intro to the cute, new "Wholesome Overwatch" subreddit, a look at some gorgeous Overwatch-themed PS4 and Xbox One controllers, a cool Easter egg in the new Horizon Lunar Colony map and a criticism of Blizzard's failures in its design of Symmetra.