'Pokémon Go' Nest Migration 25: How to track changing spawn locations with the 'Silph Road' Atlas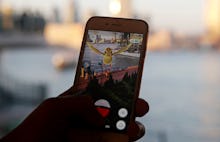 Every two weeks in Pokémon Go, Niantic changes the spawn locations in-game. "Nests" can be integral to tracking down a specific Pokémon you've had your eye on. Migrations aren't as exciting as the Chicago live event or the possibility of legendary raids, but they keep the game fresh. Even better, the game has now passed an important milestone: The most recent migration is the game's 25th.
If this is your first migration, here's what's changing and what you can do about it.
Pokémon Go nest migration 25: How to use the Silph Road's Nest Atlas
Every time there's a new migration, the Pokémon Go subreddit the Silph Road announces it on its website. Once that's happened, it also resets its Global Nest Atlas, a GPS tool trainers use to find what Pokémon spawn nearby.
During the fortnightly reset, trainers have the opportunity to report their new nests. This requires you to register your Reddit account with the Silph Road, but think of it as community service. After all, you're helping other players in your area find out what's spawning where.
If you'd like to avoid getting caught off guard by migrations in the future, you've got options. The Nest Atlas itself now has a helpful countdown timer to the next migration in the upper righthand corner. Additionally, the Pokémon Go app sends out push notifications alerting players to the change. This is the first time the app has done this since migrations started a year ago. Whether it's something special for the anniversary or a new development, it's welcome.
So, get out there and find those new nests, if you're so inclined. It's the 25th migration, and here's to 25 more.
More Pokémon Go news, updates, tips and tricks
Raids are here! See why they may be the key to legendary Pokémon. Find out how to determine how long it will take you to reach level 40, and see what we think of the Gen 2 Pokémon added to the game. Here are the kinds of Pokémon you get from 10-kilometer eggs, and here's where you can check out what you missed during the Water Festival and Solstice events. Find out more about the upcoming Chicago event and why you'll probably be able to catch Unown while you're there — if you're not busy searching for rare evolutionary items, that is.