'Pokémon Go' Global Event: Niantic teases "safari zones" and worldwide participation at fest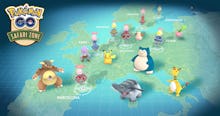 Pokémon Go's first real-world event comes to Chicago in a little over a week, on July 22. Pokémon Go Fest promises exclusive Pokémon encounters, special medals and challenges. It seemed like these would only come to players able to participate in the event in person. However, Niantic hinted that players outside of Chicago would also get the opportunity to reap some of the rewards as well.
On July 12, Niantic spilled the Poké Beans on what's coming for players worldwide. It looks like participating in the Pokémon Go Fest is just the beginning.
Pokémon Go worldwide events: Niantic details what players can expect from Pokémon Go Fest
In a post on the official Pokémon Go site, players finally got a hint about what trainers outside Chicago can do during Pokémon Go Fest. According to the post, there will be three "challenge windows" throughout the day on July 22. During these windows, players inside Grant Park can catch specific Pokémon types to unlock worldwide perks for other players.
While players in the fest do that, players worldwide will focus on catching as many Pokémon as possible. The more Pokémon they catch, the longer the bonus trainers unlocked in Grant Park will last. But that's not all. If trainers worldwide catch enough Pokémon, they'll unlock a mystery challenge for those at the fest. If Chicago trainers complete the mystery challenge, they'll unlock a global reward.
Pokémon Go worldwide events: Niantic promises "safari zones" for European shopping centers
Later in the summer, continental European Pokémon Go fans have even more to look forward to. In the same post, Niantic announced the introduction of "safari zones" — named after a concept from the main Pokémon games. These safari zones were hinted at — though not by name — during the official announcement for the anniversary event earlier in July.
Players have the opportunity to capture Pokémon never encountered before in Europe during these events. Special raid bosses will also appear.
Currently, there are plans to release seven safari zones over the course of three weekends in August and September. Each of the events takes place at a Unibail-Rodamco shopping center. Here's hoping that Pokémon Go can keep the momentum up after the summer.
More Pokémon Go news, updates, tips and tricks
Raids are here! See why they may be the key to legendary Pokémon. Find out how to determine how long it will take you to reach level 40, and see what we think of the Gen 2 Pokémon added to the game. Here are the kinds of Pokémon you get from 10-kilometer eggs, and here's where you can check out what you missed during the Water Festival and Solstice events. Find out more about the upcoming Chicago event and why you'll probably be able to catch Unown while you're there — if you're not busy searching for rare evolutionary items, that is.