'Splatoon 2' Splatfest Time: When can you play the free demo on Nintendo Switch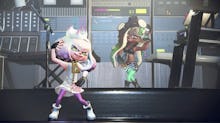 The Splatoon 2 Nintendo Direct divulged plenty of info prior to the game's release date. We got a sense of which weapons to expect, which new characters we'll see and most importantly, how to play for free. If you're looking to play at no cost before the game comes out, take note of the Splatoon 2 Splatfest.
Similar to Splatoon 2's global testfire open beta, you'll be able to play for a few hours at no cost. All you need know is what time it starts.
What time will the free Splatfest for Splatoon 2 take place?
As noted in the Direct, the Splatfest will go down between 6 p.m. and 10 p.m. Eastern on July 15 on a Nintendo Switch near you. We recommend downloading the Splatfest software from Nintendo's eShop beforehand.
Our initial impressions of Splatoon 2 show that the game is largely similar to the first one, with the main difference being portability. Sure there are new weapons, new abilities and new brand names to look forward to, but being able to bring this game with you blows anything the original Splatoon was trying to do out of the water. Not to knock the OG Splatoon game.
Even though a title like Splatoon 2 begs to be played online, throwing the game in your bag so you can ink friends during downtime is only right.
Check out more Nintendo news and coverage
Looking for more Nintendo Switch news? See our impressions of Splatoon's global testfire, check out how blind gamers are using the Nintendo Switch and why you can't get your Mii to look quite like you. Nintendo's left Joy-Con issue turns out to be a hardware problem — here's how to solve it. Find out how to buy a console amidst the recent restock. Learn why the Switch cartridges taste so bad. Check out our comparison photos sizing up the Switch to the Wii U GamePad (part one and part two), or find out how to make use of ethernet without the dock and the best way to get alerts when new stock arrives.