Want to meet Mark Zuckerberg? Follow these 3 rules.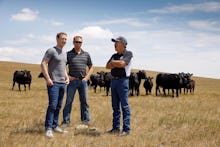 Throughout 2017 Facebook CEO Mark Zuckerberg has been on a cross-country trip throughout the U.S., trying to meet regular folks.
He's toured an auto factory in Detroit, gutted a fish in Alaska, explored a cattle ranch in South Dakota and more. On each stop, he pauses to chat with average Americans about their daily lives.
Coordinating these visits, however, is no easy task, as Reid Epstein and Deepa Seetharaman reported in the Wall Street Journal. And if you're lucky enough to hold court with the billionaire, according to their report you must follow three big rules:
Rule One: You probably won't know Mr. Zuckerberg is coming.
Rule Two: If you do know he's coming, keep it to yourself.
Rule Three: Be careful what you reveal about the meeting.
Though Zuckerberg has vehemently denied running for president, a visit from the Facebook founder is not dissimilar to a visit from the president.
Kyle McKasson, manager of the Wilton Candy Kitchen — a local business in Wilton, Iowa — told the Journal that Zuckerberg's entourage did a sweep of his store four days prior to the CEO's appearance, but he thought they were just regular tourists.
Four days later the group returned and gave him just a five-minute heads up about Zuckerberg's visit.
Dan Moore — a Trump supporter from Newton Falls, Ohio, who hosted Zuckerberg at his house during his tour of the state — was also kept in the dark about Zuckerberg's visit. Zuckerberg's representatives reached out just days before asking if he'd be willing to have "a billionaire philanthropist from California" over to his home.
Zuckerberg and his wife appeared on their doorstep days later and enjoyed a meal at Moore's house.
Americans who are graced by an appearance from Zuckerberg are told not to publicize the meetings or give quotes, and to refer all questions to his PR team.
Though some people have mocked Zuckerberg's secrecy, as one of our nation's foremost celebrity CEOs you can't exactly blame him for wanting to keep security tight.
The Facebook chief was forced to hire 16 bodyguards for his home earlier this year after threats and recently his security detail has come under siege by a local man.