Blake Lively as the next James Bond-like spy is exactly what we need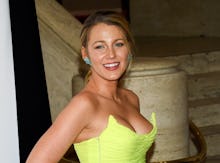 The myth that fans do not show up for films primarily featuring action heroines is quickly being shown for what it is: false. If there was ever really a question whether a market existed for female-led action films, Wonder Woman answered it with a resounding "yes." In a few weeks, Charlize Theron will continue to prove her value — after Mad Max: Fury Road and The Fate of the Furious — as an action star in Atomic Blonde, which is receiving strong reviews and, according to early projections, will likely do quite well at the box office.
After Atomic Blonde, though, there are not many female-led action films in the pipeline. The next major such film with a release date, not including Star Wars: The Last Jedi and Justice League, which are larger ensemble pieces, is the Tomb Raider reboot, starring Alicia Vikander in the title role. But with fans (and critics) responding so well to recent action heroines, it should not be surprising that producers are looking to find their next tent-pole production. And James Bond producers, EON Productions and IM Global may have just found one in Blake Lively.
According to the Hollywood Reporter, the producers responsible for the last eight Bond films have brought on Lively to star in a movie adaptation of The Rhythm Section, the first of Mark Burnell's four-book series following Stephanie Patrick. Should the film closely follow Burnell's novel, it will see Patrick assume a variety of identities after the death of her family. Even if the Stephanie Patrick character doesn't ring a bell, there's still excitement over the prospect of seeing Lively lead her own action-thriller.
While Lively's film career following Gossip Girl has included some real duds (um, Green Lantern?), she has excelled when given a character more layered than just a love interest to bring to life. For example, though she only played a small role, Lively showed off her acting chops in Ben Affleck's crime-drama The Town, even earning a best supporting actress nod from the San Diego Film Critics Society. But it's in 2016's The Shallows that Lively proved for the first time that she could command the screen on her own for an entire movie.
While The Shallows did receive generally positive reviews, it would have been an unremarkable shark thriller if not for Lively's performance. For most of the movie, she was alone onscreen — other than that pesky shark — meaning for the film to be a success, she had to carry it. Lively delivered arguably the best performance of her career, showing off range that may have surprised even her most die-hard fans.
And while The Shallows is pretty far from an espionage thriller, Lively's ability to command the screen should ease any concerns that she wouldn't excel as an action star in what could become a new franchise. Lively should have no problem bringing Stephanie Patrick to life, as between The Town and The Shallows, she has proven that she can play vengeful, devastated characters willing to do anything to survive. And those are interesting protagonists we do not often get to see onscreen.
Mic has ongoing coverage of movies. Please follow our main movies hub here.