DOJ charges 412 people for involvement in health care fraud and "opioid scams"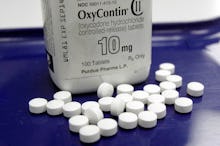 U.S. Attorney General Jeff Sessions announced Thursday that federal prosecutors have brought charges against more than 400 people for their involvement in health care fraud and "opioid scams," the Associated Press reported.
The fraud totaled $1.3 billion in false billing, the AP reported. Speaking on Thursday, Sessions called the charges the "largest health care fraud takedown operation in American history" and criticized health care professionals who "have chosen to violate their oaths and put greed ahead of their patients."
Some of those facing charges are alleged to have illegally billed federal health insurance programs like Medicare and Medicaid for drugs that were either never purchased or never distributed to patients.
The people facing charges include six Michigan physicians reportedly accused of a plan to prescribe unneeded opioids and a Florida drug rehabilitation facility that allegedly recruited patients with "gift cards and visits to strip clubs," according to the AP.
"They seem oblivious to the disastrous consequences of their greed," Sessions said during the news conference. "Their actions not only enrich themselves, often at the expense of taxpayers, but also feed addictions and cause addictions to start."