A porn company wants guys to use their genitals as a password. That's a terrible idea.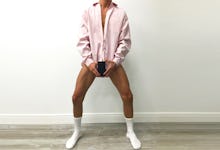 As you gently lower your boner onto your fingerprint reader to access your cache of adult entertainment, think: How did I get here?
CamSoda, an adult entertainment webcam platform, announced Thursday that it is launching the first iteration of Dick-ometrics. To enable Dick-ometrics, users will first need to send in a dick pic that will be used to match subsequent dick pics. Using what the press release calls "proprietary Penis Recognition Tech, or PRT," users will then be able to simply snap and upload a photo of their penis to verify themselves and grant them access to their account. This is an alternative to typing your password.
CamSoda also said in a press release that it plans to develop tech that lets users place their penis on the fingerprint reader as an added layer of security.
CamSoda also noted that an aroused penis is preferred over a flaccid one. VP of CamSoda Darren Press said in an email that this is because a boner provides "better detail" and listed vein composition, length and girth as a few examples.
"Plus who isn't hard when they're about to hop on to CamSoda and watch some of their favorite cam models broadcast themselves?" Press said. "We figure the number of users who are hard and about to log on far outweigh the flaccid users who flock to our site."
I can't believe I have to list reasons why you shouldn't use your boner to unlock your porn account, but here we go.
While the press team said CamSoda has never been hacked, that doesn't mean the company isn't vulnerable to a cybersecurity breach. The team noted that the original dick pic "is used to create a hashed datastore but is never kept in an image format. Once we have the attributes of a user's penis, we are able to authenticate it." But are you willing to risk the details of your dick being leaked?
And if the idea of your dick spreading across the internet doesn't dissuade you (maybe it emboldens you, to which I say, no one wants to see your dick) — think about the poop. A 2011 study found there is a 1 in 6 chance that there is fecal matter on your phone screen. Another study found that your smartphone has more bacteria than a toilet seat. Press said CamSoda encourages its Dick-ometrics users "to clean the surface of their phone before they lay their penis on it."
This is beginning to sound like a lot of work to get off. Get a password manager, horndogs.