Xbox One X News: 4K updates for games will be free, Microsoft confirms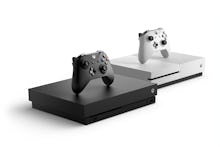 It's always rough when a fan feels like they're wasting their money on a game update. That's why Xbox's announcement a few days ago was welcome news.
According to a tweet from Aaron Greenberg, the head of marketing at Xbox Games at Microsoft, if a game you own has an update coming that will allow it to support 4K, that update will be free.
This is a lovely change from the old Xbox philosophy that made trading games next to impossible and required internet to even use the console.
More gaming news and updates
Check out the latest from Mic, like this essay about the sinister, subtle evils lurking in rural America that Far Cry 5 shouldn't ignore. Also, be sure to read our review of Tekken 7, an article about D.Va's influence on one Overwatch player's ideas about femininity and an analysis of gaming's racist habit of darkening villains' skin tones.