Michelle Obama re-emerges at the 2017 ESPYs in asymmetrical dress by Cushnie et Ochs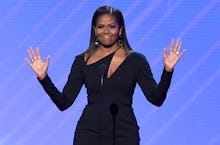 She's back and, after a few months of R&R, looking better than ever. Former first lady Michelle Obama re-emerged at the 2017 ESPY Awards on Wednesday night for a few good causes.
One: She was there to present the Arthur Ashe Courage Award to Timothy Shriver, on behalf of his mother, Eunice Kennedy Shriver, who founded the Special Olympics. Two: She was there to remind us that in this troubled and unruly political climate, women like her still exist and continue to thrive and shine and push forward.
That, and as we learned in 2006 when she was first thrust in to the political spotlight, Obama knows how to wear a dress.
"She knew that when we give others a chance to fulfill their greatest potential, we all win," she said in her speech.
Let's talk about this look for a minute. The dress is by Cushnie et Ochs, a label run by two women of color — Carly Cushnie and Michelle Ochs — which means that no, Michelle Obama calling attention to young designers or designers of color didn't stop when she left the White House. Obama could make a habit of shining a light on these designers for the rest of her life.
An icon, to say the least.
The dress itself is modern and flattering, with an asymmetrical cut and a geometric neckline. She paired it with black shoes with a twisted anklestrap, which mirrored the neckline.
Plenty of Twitter users were immediate fans.
This look continues Obama's fashion reinvention of sorts after exiting the White House. She no longer has to abide by any rules, and isn't policed quite as much as to whether what she's wearing is "appropriate." As a result, she's taking more risks, having more fun, wearing tighter and more interesting pieces that show that the White House didn't make her anything she wasn't already, which is a smart and dignified woman who fully understands the power fashion can have.
You can watch Obama's entire speech at the ESPYs below.