'RuPaul's Drag Race' earns first best reality competition Emmy nod, changing the game slightly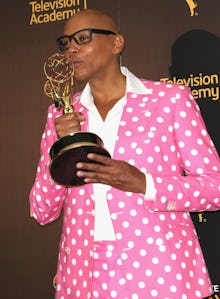 Finally, it's happened to RuPaul's Drag Race. After eight seasons of repeatedly being shut out for the Emmys' best reality competition race, VH1's battle royale of drag finally earned a nod — and then some. In total, the show earned seven nominations: for reality competition series, reality host, makeup, hairstyling, casting, editing and costumes. Aftershow Untucked also earned a nomination for best unstructured reality program.
This is a massive coup for the show — it earned more nominations than any of its reality competition series competitors besides The Voice — and can be considered a win even if the series doesn't take home the top prize. But the reality competition series race as a whole remained rather staid: Drag Race was the only new nominee, replacing Dancing With the Stars from last year.
The nominees that will face off against Drag Race are NBC's American Ninja Warrior and The Voice, CBS' The Amazing Race, Bravo's Top Chef and Lifetime's Project Runway. Of the nominees, three have won before: The Amazing Race has won a staggering 10 times out of the categories 14 years of existence, while The Voice has won thrice and Top Chef once.
For Drag Race to win will be difficult, but not impossible. RuPaul's win for best reality host last year came with his first nomination, and it's easy to imagine him taking home that prize again. (His competition includes, hilariously, Martha Stewart and Snoop Dogg.) Drag Race is coming off a breakout year that included a giant growth of viewership and an All Stars season that added to already remarkable buzz for the flagship show.
Still, the lack of drastic change in the category indicates that voters aren't quite ready to turn over tradition. While they remembered Drag Race, voters still nominated The Amazing Race and Project Runway, shows far past their prime. Considering all three previous winners are back, and Top Chef is coming off one of its strongest seasons, Drag Race will not be able to sissy that cakewalk to the stage. It's gonna be a fight, tooth and (very long) nail.
The 69th Emmy Awards will air on CBS at 8 p.m. Eastern on Sept. 17.
Mic has ongoing Emmys coverage. Follow our main Emmys hub.