It's great that Shia LaBeouf apologized, but he didn't address the racism issue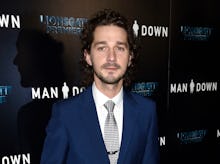 Shia LaBeouf is continuing to make headlines, but for all the wrong reasons.
The 31-year-old actor's most recent brush with police saw him arrested on Saturday in Georgia, on charges of public drunkenness, obstruction and disorderly conduct. But what really caught the public's attention is a video released by TMZ Wednesday that has the Transformers star unleashing a racist tirade toward members of the Savannah Police Department.
LaBeouf is currently filming his new movie, The Peanut Butter Falcon, in the Savannah, Georgia, area.
In the clip, which shows a clearly intoxicated LaBeouf being booked, the actor angrily tells an African-American cop that he's "going ... straight to hell, brother," adding that "a black man ... arrested me for being white," interspersing profanities toward the officers throughout.
LaBeouf posted a mea culpa on Twitter Wednesday night in response to the video.
While on the surface the wording hits all the correct notes of humility, there is a glaring omission here, which is that not once does LaBeouf acknowledge the racist comments he made.
"My outright disrespect for authority is problematic to say the least, and completely destructive to say the worst," LaBeouf wrote. "It is a new low. A low I hope is bottom."
No, the new low is how he brought the booking officers' race into the conversation. The fact that this was completely ignored in LaBeouf's post is yet another frightening example of how commonplace racist remarks have become. The note's boilerplate, contrite language does not demonstrate that LaBeouf has learned from his mistakes, of which there have been many.
LaBeouf went on to say that his recent behavior is the result of his ongoing substance abuse problems:
"I have been struggling with addiction publicly for far too long, and I am actively taking steps toward securing my sobriety and hope I can be forgiven for my mistakes."
The problem with LaBeouf using his sobriety issues as an excuse for his outburst is that being intoxicated doesn't automatically make a person resort to racist comments. And he shouldn't be allowed to bury the most upsetting facet of his recent actions under a veneer of remorse that could be substituted in for any other instance of disrespectful behavior.
LaBeouf's refusal to directly address his disturbing remarks also comes on the heels of his art installation project He Will Not Divide Us being turned into a meeting ground for neo-Nazis in the winter. LaBeouf was not involved with the white supremacists who regularly installed themselves at the He Will Not Divide Us location in Queens, New York. However, as Mic previously reported, the actor did not do much in the way of shutting down the hateful rhetoric.
Mic has ongoing arts coverage. Follow our main arts hub here.