'Destiny 2' Beta Predownload: Here's when you can expect to get your digital hands on the game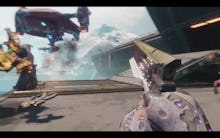 Destiny 2's open beta will be available starting Tuesday. Ahead of the Sept. 6 release date, fans will be able to try out the shooter in all its new glory. Even before the beta begins, as of July 13, you'll be able to predownload it — that way, when it opens up, you won't have to wait for the game to install.
If you've preordered the game, you'll be able to download the open beta — if you haven't, you can do that on Bungie's website. Once the preorder goes through, you'll be given a open beta code that you can redeem as of July 13.
From there, you'll need to select which platform you're going to play the open beta on — PlayStation 4 and Xbox One will be available on July 18 and July 19, respectively. If you select PC, you'll need to wait until August for the open beta.
More gaming news and updates
Check out the latest from Mic, like this essay about the sinister, subtle evils lurking in rural America that Far Cry 5 shouldn't ignore. Also, be sure to read our review of Tekken 7, an article about D.Va's influence on one Overwatch player's ideas about femininity and an analysis of gaming's racist habit of darkening villains' skin tones.