In London, Marcus Samuelsson goes to this Jewish deli for bagel and lox — and a taste of home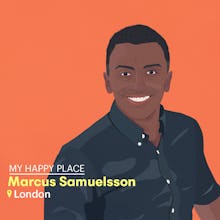 In My Happy Place, we talk to some of our favorite people about their emotional connection with an unforgettable destination.
In May, Marcus Samuelsson — celebrity chef, author, co-owner of Red Rooster Harlem — opened the second outpost of Red Rooster in Shoreditch, London, at the new Curtain hotel. We asked the chef, who first visited the neighborhood four years ago, to share his impression of the new-to-him London area and the surprising way it shaped the newest Red Rooster.
"Shoreditch is magical. It's an incredible display of British high and low, and immigrant culture. If you walk from Liverpool Street, you're in this financial area. It's kind of like Wall Street and then, a three minute walk from there, it's Shoreditch, where graffiti and street art surround you. You feel like you're in a neighborhood where people have lived for a long time.
"In New York, you think about Jewish culture and bagels — but I never thought about it in England before. Around four years ago, I came to this bagel shop [in Shoreditch] where it felt like one of these shops where everyone knew what to do but me. There are two bagel shops next to each other and one, called Beigel Bake, is wonderful and the other is not good.
"They speak English but they speak with their own accent so often it goes so fast. If you don't know what to order, you're in their way. Get out or you might get hurt.
"It's a blue-collar spot and I don't think they've raised their price in a long time. It reminds me of the fish market in my hometown, Smögen [in Sweden]. Markets are very honest places. If you go to a boqueria in Spain, every person there knows how to handle themselves. You don't fuck around with them. You pay, you get what you want and you're out. Do not double order or waste anyone's time.
"[Beigel Bake] is very transparent — you see into where the men are making the bagels. As a chef, I'm like, 'Oh cool, they're making it here.' So I'm looking at the guys making it. And they're like, 'Why you staring at me for?' That's life. 
"In this bagel shop, its like a time warp. You have the lox, the brisket sandwich, rye bread or bagels, hot mustard, pickles, cream cheese. I order a little bit of cream cheese on smoked salmon or lox. And that's it. They have horrible coffee and tea.
"I've stayed in an Airbnb, at the Ace Hotel, all kinds of hotels. But I never eat breakfast without walking over to that shop and starting my day there. It's such a great way to learn a community.
"We started to think more about the Jewish heritage of the community, and we now have lox and herring in the [Shoreditch] Red Rooster — that would not have been there had I not gone to [Beigel Bake]."