'Pokémon Go' Fest Tickets: Chicago Sprint stores are raffling off passes for the Grant Park event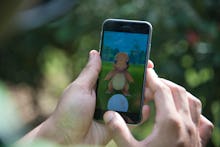 Pokémon Go Fest, the game's first live event, comes to Chicago's Grant Park on July 22. Tickets for the event were released June 19, but unfortunately sold out in short order. For Pokémon Go fans local to the Chicagoland area, this was a bitter pill to swallow, especially given the number of passes that showed up on eBay at a huge markup shortly after.
If you missed out on purchasing a pass to the Fest, you might have another opportunity to get in before July 22. The only catch is you have to be in the Chicago area, and you'll have to be lucky as well. Read on for more info.
Pokémon Go Fest: Chicago area Sprint locations plan to raffle off general admission and early entry wristbands
According to the Chicago Tribune, local Sprint stores — who are co-sponsoring the event with Niantic — will raffle off a few hundred wristbands for the event. Four Sprint locations will have the raffles, spread out over three days.
The catch is that you'll have to use your Trainer ID number to enter the raffle in the first place. If that doesn't ring a bell, it's because the Trainer ID number is from the Pokémon Go Trainer Rewards program, which Sprint and Boost Mobile run. However, it's free to join for all players regardless of their mobile company.
If that sounds good to you, here are the times and locations of participating stores' giveaway raffles. All times listed are Central.
• July 15: 4800 W. Irving Park Road., noon to 4 p.m.
Sprint stores will also have several thousand early entry wristbands. This is according to Yui Namiki, a Sprint spokeswoman who spoke with the Tribune. Early entry wristbands will be available to anyone who can prove they already have a wristband for the event.
If you're local to the area and didn't get a wristband when tickets went live, it may be worth a shot. There's also always the comfort of knowing you'll still be able to participate even if you can't attend the fest in person.
More Pokémon Go news, updates, tips and tricks
Raids are here! See why they may be the key to legendary Pokémon. Find out how to determine how long it will take you to reach level 40, and see what we think of the Gen 2 Pokémon added to the game. Here are the kinds of Pokémon you get from 10-kilometer eggs, and here's where you can check out what you missed during the Water Festival and Solstice events. Find out more about the upcoming Chicago event and why you'll probably be able to catch Unown while you're there — if you're not busy searching for rare evolutionary items, that is.