'Injustice 2' Nintendo Switch Release Date: Will we ever see the DC fighting game on the Switch?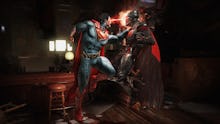 Every time a big game comes out, everyone has one question on their minds: When can I play this on my Nintendo Switch?
After all, Nintendo's nifty portable, console hybrid is a lot of fun to use and can play console-quality games on the go. It's also in desperate need of new games that aren't made by Nintendo. Injustice 2 would be a great addition to the lineup, but I wouldn't expect it anytime soon.
Despite Ed Boon tweets, don't hold your breath for Injustice 2 on Switch
As Twinfinite pointed out back in May, NetherRealm Studios head Ed Boon posted a bunch of tweets earlier this year about his interest in the Nintendo Switch. Now, one might think of it as a cryptic hint at some kind of Injustice Switch port release date, but I wouldn't go that far.
Ed Boon is a regular guy with a vested interest in video games like the rest of us and is allowed to tweet about Switch without it being viral marketing. I think it would be fantastic if Injustice 2 somehow came to Switch, but let's be reasonable. It's been two months since all that speculation, the game is out and we still haven't heard anything.
Injustice 2 is a game that looks fantastic and probably uses a lot of horsepower on the PS4 and Xbox One. The Switch, by design, is not as powerful as those consoles. So, I'm going to continue to assume every big third party game won't come to Switch until they actually do.
More gaming news and updates
Check out the latest from Mic, like this essay about the sinister, subtle evils lurking in rural America that Far Cry 5 shouldn't ignore. Also, be sure to read our review of Tekken 7, an article about D.Va's influence on one Overwatch player's ideas about femininity and an analysis of gaming's racist habit of darkening villains' skin tones.