Does Jimmy Fallon's Emmys shutout signal a turning point in late-night TV?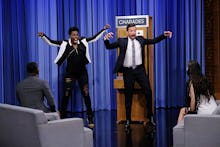 What a difference one presidential election makes.
The 2017 Emmy nominations were announced Thursday, and upon looking over the nods for outstanding variety talk series, it's rather evident that this year, voters preferred a heaping dose of political commentary with their nighttime laughs than games of charades.
For the first time since The Tonight Show Starring Jimmy Fallon hit the airwaves in 2014, the lighthearted incarnation of the legendary late-night talk show has failed to snag an Emmy nomination in the outstanding variety talk series category. (Note: The category was called outstanding variety series until 2015, when its current incarnation was put into use.)
This year's nominees include Full Frontal With Samantha Bee, Jimmy Kimmel Live!, Last Week Tonight With John Oliver (the 2016 winner), Real Time With Bill Maher, The Late Late Show With James Corden and The Late Show With Stephen Colbert.
In comparison to last year's nominees, which included Fallon's Tonight Show but did not feature Full Frontal or Colbert's then-struggling Late Show, the Emmy choices for 2017 paint a different picture of what is drawing audiences in as they get ready for bed.
And we can only speculate that viewers would much rather watch a thoroughly researched take-down of questionable government policies than Tom Cruise doing "Kid Theater."
It is also possible that Fallon's tousling of Donald Trump's hair was something that might have hurt him for good, or at least until the next president is in office.
Even before Trump was sworn in, Fallon's innocuous, nonpolitical approach to The Tonight Show began to harm, not help him. The Tonight Show's ratings dropped, only to be surpassed by The Late Show, which finally found its footing around and after the presidential election.
What's also glaring about Fallon's omission is the category still includes two relatively playful late-night nominees: Jimmy Kimmel Live! famous for silly bits like "Lie Witness News," and The Late Late Show With James Corden, which really should've been renamed "Carpool Karaoke" by now. However, unlike Fallon, both Kimmel and James Corden have made it a point on their respective shows to call out Trump and his administration with regards to divisive issues.
In May, Kimmel spoke openly about his support of the Affordable Care Act in light of his newborn son's heart disease. Prior to that, in January, Corden filmed a video in which he made no bones about his disdain for Trump's immigration ban.
Mic has ongoing arts coverage. Follow our arts hub here.