Emmys 2017: 'The Leftovers' got snubbed again, and it's blasphemy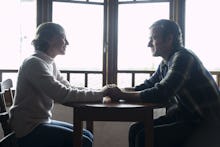 With Game of Thrones ineligible for the 2017 Emmy Awards, it left a huge vacuum in the drama categories in an Emmys year that introduced several critically acclaimed newcomers. A lot of those shows were nominated for outstanding drama series: The Crown, This Is Us, Stranger Things, The Handmaid's Tale and Westworld. This is fun and exciting, as the Emmys typically don't nominate series they're unfamiliar with and just pick the same ones each year — it's why House of Cards, which hasn't been great in a few seasons, still gets nominated, including this year.
But the drama race might as well place a huge asterisk above the eventual winner in September, because the best drama on television, The Leftovers, was snubbed by the Emmys in its third and final season. (Cue Max Richter's existentially depressing score, which actually goes well with everything that's sad.)
It's not necessarily a surprise that The Leftovers — aside from a guest actress nod for Ann Dowd in the show's first and only ever nomination — was ignored by the Emmys, the universally praised second season was also blanketed by the Television Academy. But it's no less disappointing. Season three combined humor and pathos with its ever-resonant exploration of grief through a supposed impending apocalypse, and eventually, what happens to people who prepare for the end of the world, and have to keep on living.
It made you laugh and cry — sometimes within seconds of each other — and the series made a convincing case for Emmys love across the board. I feel for Justin Theroux, who put himself through the wringer to bring would-be messiah Kevin Garvey to life. I feel for Mimi Leder, who directed some of the best episodes in The Leftovers' three seasons, including its pitch-perfect finale. I feel for Christopher Eccleston, who somehow kept a straight face as Reverend Matt Jamison on a Tasmanian sex ferry and delivered a heartbreaking performance on said ferry confronting a man claiming to be God.
Most of all, I feel for Carrie Coon, who turned Nora Durst into one of television's most complex, compelling and depressing characters with some of the best acting I've ever seen. That her Leftovers work was never recognized by the Emmys is like rounding up the best players in the modern NBA and intentionally omitting LeBron James.
I'm sorry, The Leftovers, the Emmys blew it this year. In another world — one where, say, 2% of the populace existed and everyone else disappeared — maybe you'll be recognized by an Emmys equivalent for what you were: one of the best dramas ever made. I'd gladly come join to celebrate your win, just as soon as I find a couple scientists willing to build a Low Amplitude Denziger Radiation machine. Let me go ask Mark Linn-Baker.