Before you call the police, ask yourself: Could this get someone killed?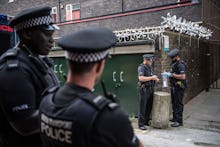 Charleena Lyles is dead because she called 911 for help. She was reportedly pregnant, and her mental illness was known to Seattle police. The officers who arrived said later that she'd made strange remarks "about how her and her daughter are gonna turn into wolves." The officers said she had a knife when they arrived, and one of the responding officers had a habit of leaving his Taser behind. They shot and killed her, in front of her three children.
Lyles' death is one of an uncountable number of incidences where the police were called to mediate a conflict or crisis, and instead, the situation escalated into an outburst of unexpected police violence.
But what if instead of calling men and women with guns to deal with routine problems like loud neighbors, or public breakdowns by those with mental health crises, we mediated these crises on our own?
What if, excluding cases of imminent danger, police intervention wasn't the first response, but the last resort? And what other systems could we build so that when crisis arrived, there was someone to call other than law enforcement?
Incidents of police violence often begin with incredible banal, everyday occurrences in police work. In June, police responding to a noise complaint in Los Angeles shot and killed 17-year-old Armando Garcia-Muro, who was trying to keep control of a dog that got loose when the officer arrived. He shot for the dog, and hit Garcia-Muro in the chest.
And it's not just violent outbreaks that can be avoided by cutting the police out of conflict resolution. Inviting the police into someone else's life can lead to minor infractions like marijuana arrests that kickstart a lifelong road to criminalization and incarceration. On Thursday, this kind of marijuana arrest happened to a man who called the police himself to help open his car door.
"When you have police with arresting power, a gun and handcuffs, even the best intentioned departments are going to run into problems, because mistakes can be made," Charles Ransford, the director of science and policy at Cure Violence, told Mic.
Cure Violence is a nationwide program that trains "interruptors," trusted members of their communities, local leaders, former gang members and others to seek out violence before it happens, break up fights and de-escalate conflicts before the police ever get involved.
Ransford tells the story of a mother in Chicago who heard her son and a group of young men loading guns in her basement. She knew that if she called the police, her son could end up in jail, or worse. Instead, she called interrupters with Cure Violence's "Ceasefire" program, who stepped in immediately, and spent weeks visiting the house to keep everyone's heads cool and prevent a shooting.
The key to Cure Violence's approach is treating violence as a public health crisis.
"If we understand people who are traumatized and hyper-aroused because of their exposure to violence, we can advocate for different types of solutions," Ransford said. "These people have a health problem, and they need treatment."
Police themselves aren't immune from the contagion of violence. The conservative estimate is that 1 in 5 police officers suffers from post-traumatic stress disorder, not incurred from shootings and brawls, but from everyday police work.
It's no coincidence that officers describe their own experience of pulling the trigger as experiences of terror — the officer who shot Philando Castile in July 2016 as part of a routine traffic stop said he was "scared to death," and the officer who shot Terence Crutcher in September said she was "never so scared" in her life.
The undiagnosed epidemic of police PTSD cannot be a replacement for the critique of racial bias in policing. But it can exacerbate the potential for escalation, especially as police are overextended into additional roles for which they're insufficiently trained.
In neighborhoods most often in need of an experienced, well-trained police force, this work falls on the most unprepared members of the force. James Brodick is a director at the Red Hook Community Justice Center, an alternative, neighborhood-based court. He gave the Brownsville neighborhood of Brooklyn, New York, as an example.
"They'd parachute rookie officers into the community," Brodick told Mic, referring to prior NYPD practice in the area. "But with inexperienced officers in highly challenged communities, things are going to escalate."
Systems like Cure Violence and the Red Hook Community Justice Center paint a vision for what's often called abolition — a world where widespread over-policing and mass incarceration are replaced with crisis intervention, community response teams and restorative justice.
There are things everyone can do to learn to deal with crises on their own, besides simply having difficult talks with neighbors. There are first-aid classes for dealing with mental health issues, and the Audre Lorde Project prepares guides for how to hold events and create environments where conflicts are resolved without police.
Of course, Cure's Charles Ransford says these techniques are no substitute for a strong, local alternative institution to policing.
But for now, those reading this likely don't live in an area with a community court, an interruption team, or a separate hotline to call for crisis mediation. Instead, they're left with two options: attempt to deal with the issue on their own, or call the police.
Think carefully.