Man who fatally stabbed Richard Collins indicted on murder charge by grand jury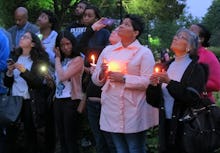 On Thursday, a grand jury indicted a white University of Maryland student for murder in the stabbing of black Bowie State University student Richard Collins III.
The indictment of Sean Urbanski, 22, occurred about two months after he stabbed Collins to death on the University of Maryland's campus, the Washington Post reported. According to FBI spokesman Dave Fitz, federal authorities are still investigating whether Urbanski should also face hate crime charges.
According to police, Collins was visiting his two friends at the University of Maryland. While waiting for his Uber near a campus bus stop, Urbanski walked up to Collins and stabbed him in the chest with a pocket knife. Urbanski then fled the scene. He was later taken into custody and identified by witnesses of the attack. Police said the incident was caught on surveillance footage.
Urbanski has been affiliated with the white nationalist Facebook group "Alt-Reich: Nation," the Washington Post reported. Law enforcement said the Facebook group made racist and inflammatory posts. The founder of the group said the whole page is intended for satire. His association with the group has prompted concerns that the slaying may have been racially motivated considering the country's heightened political climate.
At the time of his death, Collins was prepared to graduate from Bowie State and had already been commissioned as a second lieutenant for the U.S. Army.
.