20 years ago, Missy Elliott's 'Supa Dupa Fly' welcomed the misfits into hip-hop's mainstream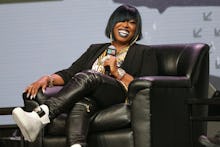 Rappers had been describing themselves as "super fly" years before Missy Elliott stepped onto the scene in 1997. But when the words tumbled out of the Virginia-born emcee's mouth in the opening of her mind-melting video for her first single, "The Rain," they took on an entirely new meaning. Chalk some of that up to presentation: Missy was stunting on her competitors while dressed in an inflatable garbage bag, then in a shock-orange trench raincoat, rapping over lean, staggered funk riffs, the likes of which listeners had never heard before.
The video for "The Rain" dropped on May 20, 1997, but 20 years ago Saturday, Missy Elliott released debut LP Supa Dupa Fly, produced entirely by close confidant and co-writer Timbaland. Best known as the 17-track album that houses "The Rain," it launched a titan into hip-hop's orbit.
Supa Dupa Fly remains one of the most unapologetically weird and disruptive rap debuts of all time. It doesn't play coy. It demands its listener recognize Missy's talent, style and sensuality from the jump. "It wasn't your car that had me all in love with you," Missy sings on the album's second track, "Hit 'Em Wit' Da Hee." "'Cause I've got my own ride and a trunk full of tunes / I drive through your hood / And I hit 'em with the hee."
The lines act like a mission statement. Here is Missy, queen of funk, rolling through hip-hop, leaving the game changed in her wake, preaching economic and creative empowerment. She gave black women a fresh voice in the genre. She wasn't interested in playing the roles too many women had to settle for in late 1990s hip-hop: the video vixen or the ride-or-die coquette. That much was immediately clear from the trash-bag outfit. The black, billowing marshmallow suit was a direct shot at every industry exec who didn't think Missy's body had a place in the "bootylicious world of female rap and R&B," as the Guardian once framed it in a 2001 profile. Missy's was a new vision of rap, one that could puff out into any shape or form to fit the artist who wanted to take up the mantle.
Missy was already well-established as a songwriter before she cut Supa Dupa Fly. She appeared in the credits of some of the smoothest R&B anthems of the mid '90s, on tracks for Aaliyah, Destiny's Child and Ginuwine. Missy was "comfortable" writing for other people, as she told Spin in 1997. "And I mean really comfortable."
But comfort clearly wasn't the goal. She aimed to upset the status quo and reshape hip-hop's narrow mold. And she pulled that off. The album plays in large part like a deconstructed take on blaxploitation soul, with producer Timbaland breaking the standard horns, guitars, piano and drums into isolated jigsaw pieces. Most songs don't lay more than one or two textures on top of this tottering scaffold — a walking funk bassline on "Izzy Izzy Ah," or the eerie, floating guitars of "I'm Talkin'" — creating a stark mix that edges up on reggae, jungle and drum and bass.
There are few rap albums that make such clever use of space and creeping, molasses-slow tempos. It's not immediately obvious how to dance to the loose, clipped beat boxing of "Beep Me 911," "Gettaway" or the off-kilter wobble of "The Rain." The album's dreamlike music videos, directed by guru of the format Hype Williams, helped ease listeners into Elliott's extraterrestrial world and showed them how to move to her stuttering, southern bounce.
Lyrically, Elliott's Supa Dupa flows on trend more toward abstract collage rather than straight-up illustration. "They Don't Wanna Fuck Wit Me" and "Hit 'Em Wit' Da Hee" show Missy breaking down her words into syllables that are unintelligible but still charged, using onomatopoeia to carry the momentum forward — "Duck, here comes the shot bang bang pllllllrrr!"
That style, which Elliott continued to develop up through 2015's "WTF (Where They From)" and 2016's "I'm Better," feels like a precursor to the post-verbal flows we're hearing from shape-shifting artists like Young Thug, Future and Lil Uzi Vert. The panic they've caused among old heads who are decrying the ways that millennials are destroying hip-hop? Missy Elliott provided a blueprint for their disruption.
Of course, she wasn't alone on the genre's forefront; at the time, there was a whole new wave of artists who were building a more expansive, afro-futuristic vision of hip-hop. Outkast and Busta Rhymes were left-field innovators in their own rights. The latter opened Supa Dupa Fly, welcoming listeners to "Missy LP numba one! / Blossomin' like beautiful flowers on all y'all muthafuckas!" Fans loved the display. The LP went platinum, moving 129,000 copies its first week, the highest debut for a female rapper at the time. Critics praised the way she delivered heartfelt ballads and taunting raps with equal enthusiasm. In his 2006 book, Fear of Music: The 261 Greatest Albums Since Punk and Disco, music critic Garry Mulholland described the album as "a key prophecy of the dominant 21st-century black pop."
And this was all just the beginning. Missy went on to achieve greater mainstream successes: her No. 2 charting 2001 album, Miss E... So Addictive; her double platinum 2002 album Under Construction; her dance-floor dominating 2005 single "Lose Control." It all started with Supa Dupa Fly, when Missy Elliott proved a female artist could let their freak flag fly and remain a critical and commercial force to be reckoned with. There's a seemingly endless line of artists who still find inspiration in her iconoclastic, sci-fi style. Twenty years later, pop is still biting Missy's style — and it's flyer for it.
Mic has ongoing music coverage. Please follow our main music hub here.