'PES 2018' Cover Athlete: Luis Suarez will be the face of 'Pro Evolution Soccer' in Europe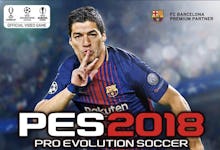 Pro Evolution Soccer 2018 fans in Europe will have a special cover featuring FC Barcelona and Uruguayan star Luis Suarez. Over the past two years, Konami and the PES brand have worked as partners with FC Barcelona, and the cover of the games in the series has featured players from the club during that time.
There will be an FC Barcelona digital version that will feature the club's five biggest names on the cover: Lionel Messi, Neymar, Iniesta, Luis Suarez and Rafinha. Suarez was also named an official ambassador for the game and stated:
"I'm a big fan of PES, so it's a real honor for me to be on this year's cover. Every year this game gets better and better, and the work put into making PES 2018 really shows. I can't believe how real and lifelike I look in this year's game. It's simply amazing."
Here are a few of the impressive videos released showing off PES 2018's strong visuals, collision detection and more.
PES 2018 releases for the PlayStation 4, Xbox One, PlayStation 3, Xbox 360, and PC on Sept. 12.
More sports gaming news and updates
Love sports games? Check out more content from Mic, including tips for leveling up your NBA 2K17 MyPlayer, playing quarterback in Madden 17, our review of MLB The Show 17 and the classic Nintendo sports games we want to see on the Switch.