'Dream Daddy' Steam Delay: Devs of gay dad dating sim miss release date, citing late-game bugs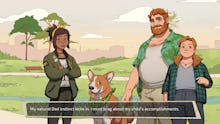 If you were hoping to get your hands on a dreamy dad — in the dating simulator Dream Daddy, of course — you're going to have to wait just a little while longer.
The official Twitter account for the upcoming Dream Daddy game, in which you play as a hunky dad attempting to romance other hunky dads, confirmed that the development team had missed their original release date of July 13.
Originally, the Dream Daddy Twitter account said that the game would simply come out later in the day on the intended release date, but a follow-up statement from one of the game's co-creators, Vernon Shaw, said that last-minute bugs held the process up. Now, they're looking at having to come up with a whole new release date entirely.
"We all sat down and talked to talk it through, ultimately deciding we can't release the game tonight," Shaw said. "We want to put out the good game that you all deserve, but to do that it's going to take a little more time. The plan right now is that we're all gonna go home, get 12 hours of much-needed sleep, and then come back to you tomorrow with a new release date."
The full statement from Twitter is embedded below.
If this is the first you're hearing about it, Dream Daddy is primarily the brainchild of game designers Vernon Shaw and Leighton Gray, but its being produced by the Game Grumps YouTube channel — the vector by which its grown the majority of its fandom.
We here at Mic have not had a chance to play Dream Daddy yet either. We'll have more thoughts on it in the next week or so, once we've spent some quality time with it.
July 14, 2017, 7:35 a.m.: This story has been updated.
More gaming news and updates
Check out the latest from Mic, like this essay about the sinister, subtle evils lurking in rural America that Far Cry 5 shouldn't ignore. Also, be sure to read our review of Tekken 7, an article about D.Va's influence on one Overwatch player's ideas about femininity and an analysis of gaming's racist habit of darkening villains' skin tones.