Senate health care bill already on the brink of collapse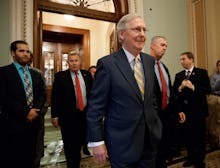 The revised health care bill Senate Republicans released on Thursday is already on the verge of failure, after two Republican Senators say they won't even vote to allow debate on the plan.
GOP Senators Rand Paul of Kentucky and Susan Collins of Maine both said they will not vote on a motion to proceed, which would merely allow the plan to be debated on the Senate floor.
Just one more "no" vote is needed to block debate and kill the bill for the second time in as many weeks. And that's not a hard scenario to envision, as a handful of other moderate Senate Republicans have said they are concerned with the latest legislative text.
The revised health care text Senate Majority Leader Mitch McConnell released on Thursday tinkered with the initial plan he released in June, which the Congressional Budget Office estimated would leave 22 million more people uninsured.
Changes include nixing the tax cuts on the rich, as well as allowing states to sell bare-bones plans with high deductibles that don't cover things such as addiction and mental health treatment, prescription drugs and maternity care, among other benefits. States would still have to offer an Affordable Care Act-compliant plan, but those would likely draw sicker patients with pre-existing conditions, making the premiums for those plans expensive — perhaps prohibitively so.
In order to make up for that, the bill adds additional funding for opioid treatment and funds to help offset the high cost of covering people with pre-existing conditions.
Unchanged are the deep cuts to Medicaid — which moderate Senators oppose — as well as the defunding of Planned Parenthood.
Collins said she will vote against starting debate because the Medicaid cuts are still included in the bill.
Paul, on the other hand, says the bill does not go far enough to repeal the ACA, better known as Obamacare, and thus will vote no.
With two "no" votes already on the table, opponents of the plan are likely to put pressure on Senators Dean Heller of Nevada, Lisa Murkowski of Alaska and Rob Portman of Ohio.
Heller and Portman both represent states with Republican governors who oppose the bill's Medicaid cuts.
Heller, who was adamantly opposed to the initial version, could face attacks calling him a flip-flopper if he backs this new bill. Heller said he could not vote for the initial version of the bill thanks to the Medicaid cuts, which are still included in this latest version.
Murkowski is also opposed to the Medicaid cuts, as well as defunding Planned Parenthood.