Donald Trump changes story, says his son's Russia meeting was "mentioned at some point"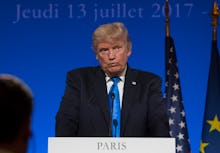 President Donald Trump backtracked on his original claim that he never heard of his son's meeting with a Kremlin-connected lawyer until this week, telling reporters the meeting was "maybe ... mentioned at some point."
"They talked about the adoption stuff which was actually a big thing at the time, but nothing happened," Trump said of the meeting between Donald Trump Jr. and Russian lawyer Natalia Veselnitskaya, whom Trump Jr. believed would provide compromising information on Democratic presidential nominee Hillary Clinton.
Trump also said he didn't know the meeting was about collecting dirt on Clinton.
The comments came during an hour-long conversation Thursday with reporters aboard Air Force One on the way to Paris, where Trump met with French President Emmanuel Macron.
The conversation was initially off the record, meaning reporters could not make public what Trump said. Later, Trump told members of the press they should be able to report on his comments.
Because the White House released a transcript that initially excluded his admission, reporters decided to release the quote on their own.
Trump's comment is a change from his initial blanket denial that he knew about the meeting until Trump Jr. publicly released emails Tuesday revealing how the meeting was set up.
"I didn't know until a couple of days ago when I heard about this," Trump told Reuters about the meeting.
The president also seemed to deny knowing about the meeting in the same hour-long conversation with reporters, in which he defended Trump Jr.
"Don is — as many of you know Don — he's a good boy. He's a good kid," Trump said of his 39-year-old son. "And he had a meeting, nothing happened with the meeting. It was a short meeting as he told me — because I only heard about it two or three days ago."
In light of the revelation that Trump Jr. knew of Russia's plan to try and boost his father's candidacy, the FBI is taking another look at intercepted conversations in which Russian government officials talked about the Trump campaign.