Roku IPO: What we know about the streaming device company's rumored stock offering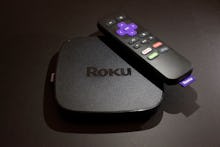 Roku — the company making streaming devices popular among cord-cutters — plans to go public by the end of this year, per unnamed sources that reportedly shared details of the stock offering with the Wall Street Journal. The company plans to seek a $1-billion valuation, according to the Journal, but it's not clear how much Roku hopes to raise in the IPO or what the price of the stock will be.
A representative for Roku declined to comment to Mic about the report. Details in the Journal story are scant: It's reported that Allen & Co., Citigroup and Morgan Stanley will help underwrite the sale (meaning they will help arrange the buyers for the first batch of listed shares).
One concern is whether Roku will be able to achieve a $1-billion valuation after other major IPOs this year have floundered. Snapchat-maker Snap went public last March, and so far the results have been mixed: As of Thursday afternoon, right after market close, shares of Snap stock could be had for $15.69 apiece, less than the $17 per share they went for on IPO day, suggesting investors aren't enthused about buying stock in the company.
Blue Apron, which went public on June 29, has also failed to maintain a stock price above its initial offering of $10 per share, and that's even after lowering its original price at the last minute, in an attempt to encourage skeptical buyers with a deal. As Bloomberg's Shira Ovide noted in a column about these recent IPOs, their launches do not necessarily bode well for other buzzy startups hoping to follow in their footsteps.
"[Snap is] the inaugural IPO from one of the stars of the mobile-first tech generation that includes Airbnb, Pinterest, Uber and Didi Chuxing," Ovide wrote. "Snapchat has shown investors are choosing to focus on the warts over the potential. That's not a great sign for how investors might greet its peers."
Roku is also in a competitive market — with Amazon, Apple, Google and even the major cable companies offering their own versions of a device that lets you stream internet video on your television.
That said, it does have one of the best reputations among consumers because, unlike many other brands, it doesn't produce its own content, and can thus remain neutral about what options it offers its users. The hope for Roku's backers is that this will help the company cash in as more and more consumers continue to ditch cable.
Sign up for the Payoff — your weekly crash course on how to live your best financial life. Additionally, for all your burning money questions, check out Mic's credit, savings, career, investing and health care hubs for more information — that pays off.