GOP operative who said he looked for Clinton emails on Flynn's behalf reportedly died by suicide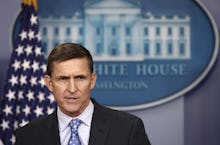 The GOP political operative who claimed he was searching for hacked versions of Hillary Clinton's emails on behalf of former national security adviser Michael Flynn reportedly died by suicide, according to the Chicago Tribune.
On June 29, the Wall Street Journal reported that Peter W. Smith, a GOP political operative who died on May 14 at age 81, had been seeking out Russian hackers who could provide him illegally obtained emails from Hillary Clinton's private email server. According to the Journal, Smith told people he had been working independently but was coordinating with Flynn in his search for the emails.
A later report in the Journal claimed Smith also referenced White House aides Kellyanne Conway and Steve Bannon and campaign policy adviser Sam Clovis in a recruitment document for his attempts to track down the emails.
According to the Tribune, Smith was found in a hotel near the Mayo Clinic in Olmsted County, Minnesota. Smith reportedly left what law enforcement identified as a suicide note citing his ill health and expiring life insurance policy.
Smith spent much of his life as a prominent opposition researcher for the Republican party.