Trump's lawyer sent a threatening email to a stranger saying "watch your back , bitch"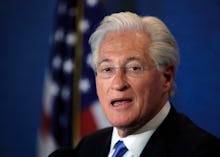 The man in charge of defending Donald Trump in the ongoing Trump-Russia inquiry, is spending his evenings sending threatening emails to strangers, according to a new report from ProPublica.
On Tuesday ProPublica published a story about Marc Kasowitz that included a number of salacious details about his personal life. After the story was featured on MSNBC's The Rachel Maddow Show a stranger sent Kasowitz an email with the subject line "Resign Now" that read,
Marc,
You don't know me. I don't know you.
But I believe it is in your interest and the long-term interest of your firm for you to resign from your position advising the President re. pending federal legal matters. No good can come from this and, in fact, your name may turn out to be a disparaging historical footnote to the presidency of DJT.
Shortly after the email was sent, Kasowitz responded with a series of emails. The following are quotes from those emails as published by ProPublica, who were sent copies of the email exchange.
"F*ck you."
"And you don't know me, but I will know you.
"... call me .... if you want a conversation. I will have it with you. You are such a piece of shit. Call me Don't be afraid, you piece of shit. Stand up. If you don't call, you're just afraid. Call me."
"I'm Jewish. I presume you are too. Stop being afraid. Call me. Or give me your number and I will call you. I already know where you live, I'm on you.  You might as well call me. You will see me. I promise. Bro."
The individual forwarded the emails to ProPublica, who published them. He also claimed he was so afraid that he also sent them to the FBI.
Later, a spokesman for Kasowitz sent the following statement to ProPublica.
"Mr. Kasowitz, who is tied up with client matters, said he intends to apologize to the writer of the email referenced in today's ProPublica story. While no excuse, the email came at the end of a very long day that at 10 p.m. was not yet over. 'The person sending that email is entitled to his opinion and I should not have responded in that inappropriate manner,' Mr. Kasowitz said.  'I intend to send him an email stating just that. This is one of those times where one wishes he could reverse the clock, but of course I can't.'"
As of now, Kasowitz continues to represent the president of the United States in one of the biggest political scandals of our time.