Report: Trump's lawyers knew about Don Jr.'s Russia emails in June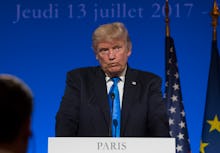 President Donald Trump's lawyers have known about Donald Trump Jr.'s emails with a supposed agent of the Russian government for more than three weeks according to a new report from Yahoo News' Michael Isikoff.
On Wednesday, Trump told Reuters that he had only learned of the emails "a couple of days ago" and specified later to reporters that it was only "two or three days ago."
But according to sources who spoke with Yahoo News, Trump's lawyer in the Trump-Russia affair Marc Kasowitz as well as chief legal officer for the Trump organization Alan Garten both knew about the emails as early as the third week in June.
In reports from Saturday through Monday it was revealed by the New York Times that Donald Trump Jr. had been approached via email about meeting with a representative of the Russian government who wanted to share damaging information about Hillary Clinton. On Tuesday Trump Jr. released the emails which showed that the meeting had been presented as "part of Russia and its government's support for Mr. Trump."
The emails had been forwarded along to former head of the Trump campaign Paul Manafort and Trump son-in-law and adviser Jared Kushner who both attended the meeting.
After the Times first published their report of the meeting Trump's team reportedly crafted and Trump signed off on a misleading statement that claimed that Trump Jr. had simply met with a Russian lawyer about a Russian adoption program.
Yahoo News' reporting suggests that Trump's lawyers knew at the time that Trump Jr. had taken the meeting under considerably different pretenses.