'Hot Mic' podcast: GOP health care, Trump backtracks on Jr.'s meeting, Verizon data security risk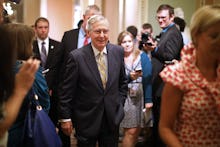 Listen and subscribe to the Hot Mic podcast from your mobile device:
Here are the important stories to know for Friday, July 14:
1. Senate Republicans released a revised version of their proposed health care bill and it's already on the verge of failure.
2. Trump changed his story and told reporters that maybe his son's meeting with a Kremlin-connected lawyer was "mentioned at some point."
3. A security risk left records of 6 million Verizon customers exposed.
Direct from Mic's newsroom, Hot Mic keeps listeners informed with a daily run-down of top stories, breaking news and analysis from our news team.