Hawaii judge exempts grandparents, other close family members in latest blow to Trump's travel ban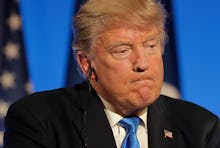 A federal judge in Hawaii on Thursday expanded the list of relatives exempted under President Donald Trump's controversial travel ban, a limited version of which went into effect late last month.
Judge Derrick Watson, who had issued a ruling in spring blocking the travel ban, has now ruled that grandparents, grandchildren, brothers-in-law, sisters-in-law, aunts, uncles, nieces, nephews and cousins are exempt from the ban.
The Supreme Court announced in June that it would hear arguments on the ban in fall. In doing so, it largely lifted the blocks placed on the ban by two lower courts, allowing the Trump administration to halt travel from six predominantly Muslim countries unless an individual has a "bona fide relationship with a person or entity in the United States" or "students from the designated countries who have been admitted" to a college or university in the U.S.
The Trump administration had more narrowly defined what constituted a "close familial relationship," including just parents, spouses, fiancés, sons, daughters, sons-in-law, daughters-in-law or siblings.
But, Watson said in his ruling, this represented an "unduly restrictive reading of 'close familial relationship.'"
"The government's definition of 'close familial relationship' is not only not compelled by the Supreme Court's June 26 decision, but it contradicts it," Watson wrote in his decision. "The government's definition represents the antithesis of common sense. Common sense, for instance, dictates that close family members be defined to include grandparents. Indeed, grandparents are the epitome of close family members."
Attorney General Jeff Sessions will request that the Supreme Court block Watson's ruling, it was reported Friday afternoon.
Trump had called Watson's previous ruling temporarily blocking the ban "an unprecedented judicial overreach." CNN reported in March that Watson had received threatening messages after issuing his ruling.
The Supreme Court is expected to take up the travel ban case in October.
2:40 p.m. Eastern: This story has been updated.