While You Weren't Looking: 5 stories from the week unrelated to a certain "high-quality person"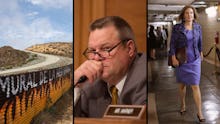 First son Donald Trump Jr.'s meeting with a Kremlin-connected lawyer — who he knew was peddling dirt on Hillary Clinton as part of Russia's effort to aid his father's candidacy — dominated the news this week, as it was the first potential sign of collusion between Trump's inner orbit and Russia.
The news was no doubt consequential, and as such took up most of the media bandwidth. But plenty of other things happened this week as well.
Here are five important stories you may have missed:
Obamacare is not, in fact, collapsing
Using ratcheted-up rhetoric about how the Affordable Care Act is collapsing before our eyes is a favorite activity for Republicans, and one they have used to try and build support for the revised health care reform bill Senate Republicans released on Thursday. The bill is already on the brink of failure.
Despite the rhetoric, a study released Monday said insurance company profits are actually up this year — a clear sign that the GOP's talking point on Obamacare's collapse is wrong.
"These new data offer more evidence that the individual market has been stabilizing and insurers are regaining profitability," the study authors, working on behalf of the non-partisan Kaiser Family Foundation, noted.
House Republicans want to give Trump money for the U.S.-Mexico border wall
House Republicans are beginning the process of drafting bills to fund the government for the 2018 fiscal year. And included in one of those funding bills is the $1.6 billion the Trump administration requested for construction of the border wall between the U.S. and Mexico.
Democrats have said they have no intention of giving President Donald Trump funds for the wall, which he promised repeatedly Mexico would pay for. And since at least eight Democratic votes will be needed in the Senate in order to get the bill passed and onto Trump's desk, the inclusion of that funding will set up a possible government shutdown fight.
But for now, at least one Republican congressman is offering insight into where that money could come from: food stamps and Planned Parenthood.
Speaking of the wall... Trump now thinks it should be transparent
On his way to Paris to meet with French President Emmanuel Macron, Trump told reporters aboard Air Force One that he doesn't think the entire U.S.-Mexico border needs a constructed wall, but that the wall that is built should be see-through.
The reason? To protect border patrol agents from "sacks of drugs" that fly over the wall.
"You have to be able to see through it," Trump said. "As horrible as it sounds, when they throw the large sacks of drugs over, and if you have people on the other side of the wall, you don't see them. They hit you on the head with 60 pounds of stuff? It's over."
Trump saying the wall must be transparent so agents aren't hit with sacks of drugs makes the point for those against construction of the wall: that a physical wall will not prevent the flow of drugs between the two countries.
House GOP tried — and failed — to defund military transgender medical procedures
On Wednesday night, the House voted on an amendment from Rep. Vicky Hartzler (R-Mo.) that would end coverage of gender reassignment surgery and hormone therapy in health care plans offered to members of the armed forces.
"By recruiting and allowing transgender individuals to serve in our military we are subjecting taxpayers to high medical costs including up to $130,000 per transition surgery, lifetime hormone treatments and additional surgeries to address the high percentage of individuals who experience complications," Hartzler said in a statement. "This policy is costly and a threat to our readiness."
But the amendment failed.
Twenty-four Republicans voted against the amendment, as did all 190 House Democrats who voted.
Rep. Ileana Ros-Lehtinen, a retiring Florida Republican who has a transgender son, explained why she voted against the amendment.
"Voted against #NDAA amendment in order to support transgender service members who fight for our #freedom," Ros-Lehtinen tweeted. "They deserve needed care #LGBT."
Senate Democrat goes viral in hearing on the Indian Health Service
Sen. Jon Tester (D-Mont.) became infuriated during a hearing Wednesday on the Indian Health Service — which, according to IHS, provides health care to "approximately 2.2 million American Indians and Alaska Natives."
Footage of the hearing, which made the rounds on Facebook, shows leaders of the IHS continually refusing to answer Tester's question about how the Trump administration's proposed cuts to the program would impact care for those in the program.
Nearly 7% of Montana's population is Native American or Alaska Native, according to Census data. And with IHS being chronically underfunded, Tester was seeking answers about how the Trump administration's cuts would further impact the agency.
"I cannot believe what has transpired today. All I want is some damn answers, that's it," Tester said to Rear Adm. Michael Weahkee, the Indian Health Service's acting director who demurred on Tester's line of questioning.