Report: Donald and Ivanka Trump companies use law firm run by Philippine government official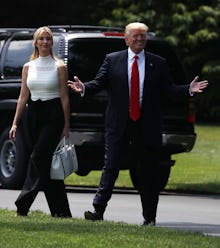 President Donald Trump and his daughter Ivanka — who holds an official White House post — use a law firm for their businesses that is operated by a high-ranking official in the government of the Philippines, the Guardian reported Thursday.
The president and his daughter have employed a law firm helmed by Elpidio C. Jamora Jr., chairman of the country's largest state-owned and run construction company, according to the Guardian, to register trademarks for their companies. Trump has used the firm since at least 2007, according to the publication, and Ivanka Trump's fashion line has used it to apply for three trademarks since her father became president, all of which are reportedly pending.
The report highlights the deep conflicts of interest that have dogged Trump throughout his presidency, and once more raises concerns that his businesses could be benefitting from his office.
Further, the Guardian reported, Trump's business ties to the Philippine government official could present ways for that foreign government to "seek to influence Trump" by granting or rejecting the Trumps' trademark applications.
Trump turned his business empire over to his sons, Donald Jr. and Eric, upon assuming the presidency, and his lawyer claimed he was "completely isolating himself from his business interests."
But a ProPublica report in April revealed that Trump is able to withdraw money and assets from his businesses at any time without publicly disclosing it, and ethics experts have consistently argued that he has not done enough to separate himself from his business interests — which have reportedly boomed during his time in office.
The Guardian reported that it did not find any evidence suggesting the Trumps were shown favoritism in their trademark applications — or in matters relating to the Trump skyscraper opening in Manila.
Jamora told the publication that he did not personally work on the Trump trademarks, and Alan Garten, executive vice-president and chief legal officer at the Trump Organization, said that the Manila-based firm "would have been hired by our outside trademark attorneys to act in a very limited capacity as local counsel."
Trump has praised Philippines President Rodrigo Duterte, who has a track record of human rights violations, as doing a "great job."