Beyoncé rocks genderless brand Palomo Spain in first photo of twins Sir Carter and Rumi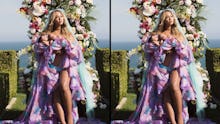 Today, we have been blessed. Today, we have been graced with the presence of not only Beyoncé, who's been MIA since the birth of her twins, but her glorious, tiny, adorable twins, Rumi and Sir Carter.
On Instagram late last night (East Coast time), Beyoncé dropped one of the most dramatic baby reveal photos of all time.
At first glance, you can see that it's strikingly similar to the first picture she posted of her pregnant belly, with an arc of flowers behind her. In this pic though, she stands like Venus, holding her two children across her chest.
Twitter, of course, erupted in glee.
The look is glorious, godly and divine, and of course we rushed to figure out what, exactly, she's wearing.
Turns out, Beyoncé picked a relatively unknown brand for this ensemble. She's wearing a floral organza dressing gown by Palomo Spain, an incredibly new (they showed their first collection earlier this year) and progressive brand that's reinventing what we consider to be menswear, led by designer Alejandro Gómez Palomo.
"She is wearing her unique Palomo organza gown that was made in our atelier in Posadas, the small village where Alejandro was born and still lives and works," a Palomo Spain spokesperson said via email.
Other than this coat, Bey wears a tiny aqua pair of underwear with a matching veil. In the lookbook for the collection this gown first popped up in, a man modeled it with thigh-high heels and a massive hat.
In the Vogue review for Palomo Spain's New York Fashion Week: Men's show in February, which we even raved about for blurring the lines of what menswear can really be with male models wearing dresses and heels, the writer noted that someone in the audience exclaimed "Gender! So last season!"
Though of course Beyoncé could have just picked this outfit out by gliding into her closet, pointing her finger and saying, "Yes, I'll wear this one," it is extremely cool that she chose a brand that's not your average Dolce & Gabbana or Gucci.
Already, the picture has more than 5 million likes.