Report: Former Soviet spy accompanied Russian lawyer in meeting with Donald Trump Jr.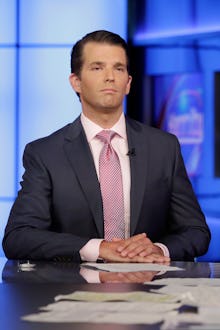 A former Soviet spy with possible connections to the current Russian intelligence community attended the June 2016 meeting between Donald Trump Jr. and a Kremlin-connected lawyer who supposedly had dirt on Hillary Clinton, NBC News reported.
Former Soviet counterintelligence officer Rinat Akhmetshin, now a lobbyist who holds dual citizenship in Russia and the United States, confirmed his presence in the meeting to the Associated Press on Friday.
Alan Futerfas, Trump Jr.'s attorney, confirmed he had spoken with Akhmetshin and described him as a friend of Natalia Veselnitskaya, the Russian lawyer, and Emin Agalarov, a Russian pop star who is a client of Rob Goldstone — the music publicist who set up the Trump Tower meeting with the president's son.
According to NBC News, some U.S. officials believe Akhmetshin has ties to current Russian intelligence — something the Russian-American denies.
"He told me specifically he was not working for the Russian government, and in fact laughed when I asked him that question," Futerfas told NBC News.
Still, the former spy's presence at the meeting — which was also attended by then-Trump campaign chairman Paul Manafort and Trump's son-in-law and senior adviser Jared Kushner — "is likely to be of interest to special counsel Robert Mueller and the House and Senate panels investigating the Russian election interference campaign," according to NBC News.
Earlier this week, it was reported that Mueller is investigating Trump Jr. as part of the FBI's probe into Russia's interference in the 2016 election and any collusion on the part of the Trump campaign.
Trump Jr. took the meeting with Veselnitskaya in an attempt to procure damaging information about Clinton, his father's Democratic opponent in the 2016 election. According to an email exchange with Goldstone released by Trump Jr. on Tuesday, the president's eldest son knew he was meeting with a Russian official and that the promised intelligence — which Trump Jr. said turned out to be "nothing" — was part of the Kremlin's attempt to help his father's presidential campaign.
"This is obviously very high level and sensitive information but is part of Russia and its government's support for Mr. Trump," Goldstone wrote to Trump Jr.
"If it's what you say I love it," Trump Jr. responded.
The White House initially said that President Donald Trump had been unaware of the meeting until the "last couple days," but a report Thursday found that Trump's lawyers had known of the meeting for more than three weeks.
The president on Thursday backtracked on his claim that he had only learned of the Trump Tower meeting this week, telling reporters that it was "maybe ... mentioned at some point."
Trump has repeatedly defended his son, calling him a "high-quality person" and describing the 39-year-old as a "good boy."