NYFW: Men's days 3 and 4: From water bottle crowns to 1970s pajamas, here are the craziest looks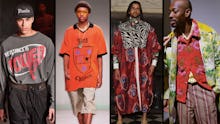 We're down one more New York Fashion Week: Men's in Manhattan, and what did we see? The first two days, we go Raf Simons in a Chinatown downpour and a new fashion-y interpretation of the MAGA hat.
The last two days on the other hand (NYFW: Men's is a four-day event, not a full week like it's women-centric counterpart) were kind of wild. There were crowns made of plastic bottles and sweaters stitched as an ode to jerk chicken (which we approve of, by the way). Fabrics were bright and patterned, throwbacks to 1970s flair and luxury.
It was a fun week, to be honest, so here are the looks you need to see from the last two days of New York Fashion Week: Men's.
This water-bottle headpiece at the Sanchez-Kane show
These extremely 1970s outfits at the Bode show
These appreciations of jerk chicken at the Landlord show
This man fully pulling off a beret at General Idea
This inspirational quote sweatshirt at the Represent show
"If you're going through hell keep going," it reads.
These gorgeous patterns at General Idea
These rather excellent bucket hats at the Matiere show
Just everything about these men at the BenchBody show
This extremely cute durable rain jacket at the Raun Larose show
This very important tourist ensemble at Ovadia & Sons
This take on a romper at the Thorsun show
These political statements at the Willy Chavarria show
This futuristic fro styled by AXE at the C2H4 show
These luxurious looks at the Palmiers Du Mal show