Why Quentin Tarantino's Manson movie could hit a roadblock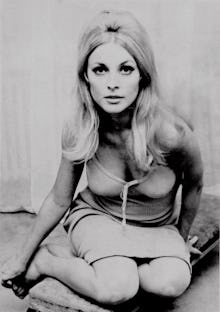 The internet is buzzing with the news that director Quentin Tarantino will be tackling the Manson Family murders in a new movie, but the film could potentially hit a major roadblock. According to Debra Tate, sister of the late actress Sharon Tate — who was murdered by the Manson Family — Tarantino has yet to reach out to her to discuss the project. So, why is this a problem? Debra owns Sharon's intellectual licensing.
Tate revealed to TMZ that while she's heard the reports about the movie, no one attached to the film has spoken to her about including her sister in the story.
"I feel that Mr. Tarantino needs to reach out to me as I don't know that he's aware, but I own Sharon's intellectual licensing," she explained. "I'm not necessarily opposed to this project, but I am very concerned in how he would portray my sister. And I would like to sit down and have a chat with him."
One of Tate's concerns is that the upcoming film will "sensationalize" her sister or touch on "internet rumors." Another issue for Tate is the actress who would portray Sharon. While there hasn't been any official casting news, there are reports circulating that Jennifer Lawrence and Margot Robbie are being considered for the role.
"They're both extremely accomplished actresses, but I would have to say my pick would be Margot," Tate said. "Simply because of her physical beauty and the way she even carries herself is similar to that of Sharon."
Debra added that while she doesn't "have anything against" Lawrence, she doesn't think the Hunger Games actress is "pretty enough to play Sharon."
That's a horrible thing to say, but you know, I have my standards ... The physical beauty wouldn't be so important, but Sharon's six years of her public life were all based on that incredibly beautiful, natural, perfect look in both soul, heart and spirit. So that's what I'm looking to try and capture.
Sharon Tate was eight months pregnant with husband Roman Polanski's baby when she was killed on Aug. 9, 1969 by members of Charles Manson's cult. The Manson Family murdered Tate, along with her friends Steven Parent, Jay Sebring, Abigail Folger and Wojciech Frykowski, at the Los Angeles home being rented by Polanski and Tate. Polanski was in Europe at the time of the murders.
If Debra Tate doesn't grant Tarantino access to use her sister's image or likeness, the film would have to take a different approach to covering the Manson Family murders. One option could be telling the story of the early days of Manson's cult. Another would be to focus on the LaBianca murders, which occurred the day after Tate's death when members of the Manson Family killed grocery store executive Leno LaBianca and his wife, Rosemary, at their home.
Plot details about Tarantino's Manson movie have yet to be revealed, tho has reportedly already written most of the script. Besides Robbie and Lawrence, Brad Pitt and Samuel L. Jackson are also rumored to be in the running for roles. Tarantino is set to direct the film, which will be produced by Harvey and Bob Weinstein.
Mic has ongoing movie coverage. Follow our movie hub here.